Lo there, My names Corey, nice to meet ya;)
im 15,love pcs, love girls.
oh and counterstrike ;d
been browsing on this site for weeks (finally joined up)
hope to c u around!
theres 1 main thing i would like to learn; to crack into local wpa connections, with a quick and easyway, cba with aircrack and im on vista, so bt3 doesnt work i believe
Corey
Novice




Posts : 16
Joined : 2008-12-20
OS : Windows Vista Home Premium!
Points : 29120
# Likes : 0



Welcome to GeekPolice! Enjoy your stay.
Administrator




Posts : 11976
Joined : 2007-12-26
Gender :
OS : Windows 7 Home Premium and Ultimate X64
Protection : Kaspersky PURE and Malwarebytes' Anti-Malware
Points : 104640
# Likes : 0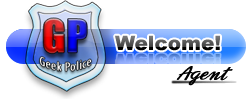 FunSubstance
is the place to go for daily entertainment.
Master




Posts : 3247
Joined : 2008-03-07
Gender :
OS : Windows 7
Protection : ESET Smart Security
Points : 50478
# Likes : 0



---
Permissions in this forum:
You
cannot
reply to topics in this forum