Hello and welcome
to
GeekPolice.net
!
If it's your first time here, welcome to GeekPolice.net, you may want to read our
[You must be registered and logged in to see this link.]
before we get started. You must Register for
FREE
and be logged in to view links, post an OTL Log and get Professional help for free. The registration link can be found at the top of this page.
Also, make sure to read our
[You must be registered and logged in to see this link.]
, as it will help you maximize the potential for getting good quality help!
We're here to help you for free. The people who help you are passion-driven volunteers who earn nothing by helping, so please be patient. We have an overwhelming number of people coming in daily requesting for help.
We offer the quickest forum-based virus, spyware and malware removal services on the Internet, and we'd like to be able to help you faster, so to do that, we need you to follow these steps first. This may seem long, but we have the shortest and fastest preparation guide for malware removal.
---
Please download AdwCleaner by Xplode onto your Desktop.
Before starting AdwCleaner,
close all open programs and internet browsers,
then double-click on the AdwCleaner icon.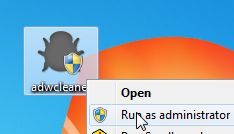 If Windows prompts you as to whether or not you wish to run AdwCleaner, please allow it to run.
When the AdwCleaner program will open, click on the Scan button as shown below.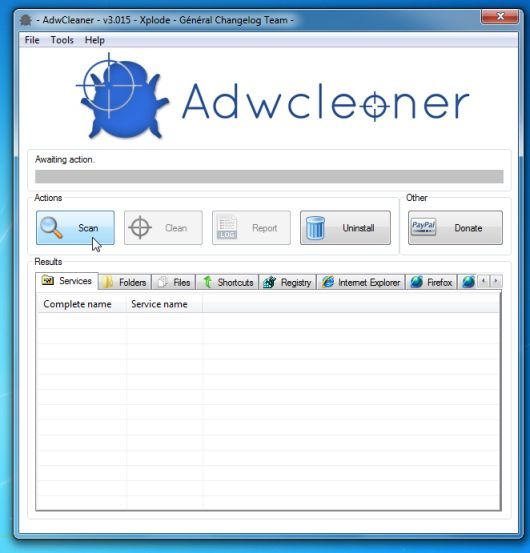 AdwCleaner will now start to search for malicious files that may be installed on your computer.
To remove the files that were detected in the previous step, please click on the
Clean
button.
AdwCleaner will now prompt you to
save any open files or data
as the program will need to reboot the computer. Please do so and then click on the
OK
button. AdwCleaner will now delete all detected adware from your computer. When it is done it will display an alert that explains what PUPs (Potentially Unwanted Programs) and Adware are. Please read through this information and then press the
OK
button. You will now be presented with an alert that states
AdwCleaner needs to reboot your computer
.
Please click on the
OK
button to allow AdwCleaner reboot your computer.A log will be produced. Please copy and paste this log in your next reply.
---

Please download Malwarebytes Anti-Malware from here.
Double Click mbam-setup.exe to install the application.


Make sure a checkmark is placed next to Update Malwarebytes' Anti-Malware and Launch Malwarebytes Anti-Malware, then click Finish.

If an update is found, it will download and install the latest version.

Once the program has loaded, select "Perform Full Scan", then click Scan.

The scan may take some time to finish,so please be patient.

When the scan is complete, click OK, then Show Results to view the results.

Make sure that everything is checked, and click Remove Selected.

When disinfection is completed, a log will open in Notepad and you may be prompted to Restart. (See Extra Note)

Please save the log to a location you will remember.

The log is automatically saved by MBAM and can be viewed by clicking the Logs tab in MBAM.

Copy and paste the entire report in your next reply.

Extra Note:
If MBAM encounters a file that is difficult to remove,you will be presented with 1 of 2 prompts,click OK to either and let MBAM proceed with the disinfection process. If asked to restart the computer, please do so immediately.
__________________________________________________________________________
Download
Security Check by screen317
from the following link and save it to your desktop.
Security Check
* Double-click
Security Check.bat
* Follow the on-screen instructions inside of the black box.
* A
Notepad
document should open automatically called
checkup.txt
* Post the contents of that document in your next reply.
Note: If a security program requests permission from
dig.exe
to access the Internet, allow it to do so.
__________________________________________________________________________
Please be patient while waiting for help. We try to respond to your posts within
24 hours
.
Note:
Some log files may be long and require over 2 posts to be completely posted, please make sure you do not miss out any part of the logs.
[You must be registered and logged in to see this link.]
You will receive an email when you a reply has been made to your post. If you have lost track of your post, click the
View My Posts
link on the GeekPolice main page.

or click
[You must be registered and logged in to see this link.]
.
All instructions provided in this forum are specially written for a specific computer, and you should
never
follow them unless otherwise stated.
Last edited by DragonMaster Jay on Tue 10 Jul 2012, 6:10 am; edited 25 times in total
Please be a GeekPolice fan on
Facebook!

Have we helped you?
[You must be registered and logged in to see this link.]
| Doctor by day, ninja by night.



Posts

: 12017


Joined :

2007-12-27


Operating System

: Windows 7 Home Premium and Ultimate X64



---
Permissions in this forum:
You
cannot
reply to topics in this forum