Page 3 of 4 •

1, 2, 3, 4

C:\Users\All Users\J8066d7H.exe is gone, but wasn't deleted.

These 3 files where in all users

J8066d7H.exe.b J8066d7H.exe_.b o6konpI3k.dat

All very small 1kb, if that helps.
Can you delete those manualy.?
Is it safe for me to tell Fileassassin or use Eraser to delete

C:\Windows\System32\268W38xW.com
As your script missed that, or should I use Avenger with a reboot?
Use Eraser or just do it manually.
OK, I did that.

Would like any scans done while I'm at work? leaving in an hour.
Ok.All done.I see no more malware.Log looks good! All that was detected is now either in quarantine or system restore, both of which we'll be cleaning out in just a minute. Congratulations, well done.
You can now uninstall ComboFix




Click the Start button. Click Run. For Vista: type in Run in the Start search, and click on Run in the results pane.

In the field, type in ComboFix /uninstall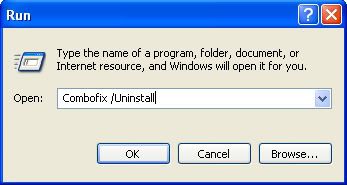 (Note: Make sure there's a space between the word ComboFix and the forward-slash.)


Then, press Enter, or click OK.

This will uninstall ComboFix, delete its folders and files, hides System files and folders, and resets System Restore.

Over the course of the fix you've used a variety of special tools to help with the cleaning process - none of these are of any use to you now that you're clean, and it's best not to have them hanging around on your computer. OTC is a small program that removes all the leftover tools and logs from cleanup of malware.
Please download
OTC
to your desktop.
Double-click OTC to run it. (Vista users, please right click on OTC and select "Run as an Administrator")
Click on the CleanUp! button and follow the prompts.
You will be asked to reboot the machine to finish the Cleanup process, choose Yes.
After the reboot all the tools we used should be gone.
Note: Some more recently created tools may not yet be removed by OTC. Feel free to manually delete any tools it leaves behind.
Here are some tips to reduce the potential for malware infection in the future; I strongly suggest that you read them and take them to heart so that you don't have to endure the process of cleaning your computer again.
Afterwork
Malware Prevention
How Did I Get Infected
More Tips on Prevention
=============================
thanks Pancake, enjoy your week mate.
Page 3 of 4 •

1, 2, 3, 4

Create an account or log in to leave a reply
You need to be a member in order to leave a reply.
Log in
Already have an account? No problem, log in here.
Log in
---
Permissions in this forum:
You
can
reply to topics in this forum