Page 2 of 2 •

1, 2
First topic message reminder :
Firstly I'd like to thank you for offering this service.
Today ends my 6 years of virus free computing.
Earlier today I ran an .exe I thought had been properly checked, it must not have been.
The symtoms are as follows.
IE trying to set itself as defualt, IE opening pages without request. (I never use IE.)
Random audio ads seemingly without source, they are choppy, looped and seem to degrade after multiple plays, they are not constant, or even frequent.
Network lag, I have been getting constant DC's when attempting to play games online using XBOX live, which is extremely odd. (however I have not tested the network or modem in any way.
Malwarebytes found 3 files in a full scan and deleted them, this did not rectify the issues.
OTL
[You must be registered and logged in to see this link.]
aswMBR version 0.9.9.1665 Copyright(c) 2011 AVAST Software
Run date: 2012-03-24 22:25:15
-----------------------------
22:25:15.825 OS Version: Windows 6.1.7600
22:25:15.825 Number of processors: 4 586 0x1C0A
22:25:15.825 ComputerName: LEECHER UserName: coxc
22:25:20.427 Initialize success
22:26:01.050 Disk 0 (boot) \Device\Harddisk0\DR0 -> \Device\Ide\IAAStorageDevice-0
22:26:01.050 Disk 0 Vendor: Hitachi_ ESBO Size: 238475MB BusType: 3
22:26:01.081 Disk 0 MBR read successfully
22:26:01.081 Disk 0 MBR scan
22:26:01.097 Disk 0 unknown MBR code
22:26:01.128 Disk 0 Partition 1 80 (A) 07 HPFS/NTFS 102400 MB offset 2048
22:26:01.159 Disk 0 Partition 2 00 1B Hidd FAT32 MSDOS5.0 15360 MB offset 209717248
22:26:01.190 Disk 0 Partition 3 00 07 HPFS/NTFS NTFS 120698 MB offset 241174528
22:26:01.237 Disk 0 Partition 4 00 EF EFI FAT 16 MB offset 488364032
22:26:01.253 Disk 0 scanning sectors +488396800
22:26:01.331 Disk 0 scanning C:\windows\system32\drivers
22:26:01.346 Service scanning
22:26:46.883 Modules scanning
22:26:49.894 Disk 0 trace - called modules:
22:26:49.956 ntkrnlpa.exe CLASSPNP.SYS disk.sys ACPI.sys halmacpi.dll iaStor.sys
22:26:49.972 1 nt!IofCallDriver -> \Device\Harddisk0\DR0[0x86865560]
22:26:50.003 3 CLASSPNP.SYS[889a159e] -> nt!IofCallDriver -> [0x84d5e888]
22:26:50.018 5 ACPI.sys[882a33b2] -> nt!IofCallDriver -> \Device\Ide\IAAStorageDevice-0[0x84d33028]
22:26:50.050 Scan finished successfully
22:27:14.292 Disk 0 MBR has been saved successfully to "C:\Users\coxc\Desktop\MBR.dat"
22:27:14.323 The log file has been saved successfully to "C:\Users\coxc\Desktop\aswMBR.txt"
Results of screen317's Security Check version 0.99.32
Windows 7 x86
(UAC is disabled!)
Internet Explorer 8
Out of date!
``````````````````````````````
Antivirus/Firewall Check:
Windows Security Center service is not running! This report may not be accurate!
Trend Micro Titanium
WMI entry may not exist for antivirus; attempting automatic update.
```````````````````````````````
Anti-malware/Other Utilities Check:
CCleaner
Java(TM) 6 Update 30
Java version out of date!
Adobe Flash Player 11.2.202.160
Adobe Reader X (10.1.1)
Mozilla Firefox (11.0.)
````````````````````````````````
Process Check:
objlist.exe by Laurent
``````````End of Log````````````
When I booted up today, it took an unusual amount of time, provided no accounts screen and gave an error along the lines of 'windows could not connect to account services'. fml
Attempting to view control panal results in 'the server process could not be started becuase the configured identity is incorrect, check username and password.
same result trying to access anything through the start menu besides
M/SM player2 crashes when asking it to chose files.
Last edited by impwis on Sun 25 Mar 2012, 10:15 am; edited 6 times in total (Reason for editing : post too long)
---
C:\Users\All Users\J8066d7H.exe is gone, but wasn't deleted.

These 3 files where in all users

J8066d7H.exe.b J8066d7H.exe_.b o6konpI3k.dat

All very small 1kb, if that helps.
Can you delete those manualy.?
Home Town Web Page
Pancake wrote:Can you delete those manualy.?
Just didn't know if I should. Done.
Is it safe for me to tell Fileassassin or use Eraser to delete

C:\Windows\System32\268W38xW.com
As your script missed that, or should I use Avenger with a reboot?
Use Eraser or just do it manually.
Home Town Web Page
OK, I did that.

Would like any scans done while I'm at work? leaving in an hour.
Ok.All done.I see no more malware.Log looks good! All that was detected is now either in quarantine or system restore, both of which we'll be cleaning out in just a minute. Congratulations, well done.
You can now uninstall ComboFix




Click the Start button. Click Run. For Vista: type in Run in the Start search, and click on Run in the results pane.

In the field, type in ComboFix /uninstall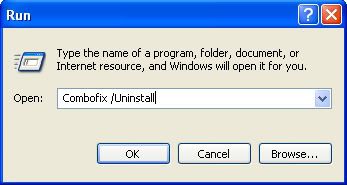 (Note: Make sure there's a space between the word ComboFix and the forward-slash.)


Then, press Enter, or click OK.

This will uninstall ComboFix, delete its folders and files, hides System files and folders, and resets System Restore.

Over the course of the fix you've used a variety of special tools to help with the cleaning process - none of these are of any use to you now that you're clean, and it's best not to have them hanging around on your computer. OTC is a small program that removes all the leftover tools and logs from cleanup of malware.
Please download OTC to your desktop.
Double-click OTC to run it. (Vista users, please right click on OTC and select "Run as an Administrator")
Click on the CleanUp! button and follow the prompts.
You will be asked to reboot the machine to finish the Cleanup process, choose Yes.
After the reboot all the tools we used should be gone.
Note: Some more recently created tools may not yet be removed by OTC. Feel free to manually delete any tools it leaves behind.
Here are some tips to reduce the potential for malware infection in the future; I strongly suggest that you read them and take them to heart so that you don't have to endure the process of cleaning your computer again.
Afterwork
Malware Prevention
How Did I Get Infected
More Tips on Prevention
=============================
Home Town Web Page
thanks Pancake, enjoy your week mate.
Page 2 of 2 •

1, 2
---
Permissions in this forum:
You
cannot
reply to topics in this forum