Page 2 of 2 •

1, 2
First topic message reminder :

Hi, my computer a Windows Vista got attacked by a virus called Vista Anti-Virus 2012, it is preventing me from launching any programs or going online. I am writing this from a Windows XP laptop. What can I do to get rid of this?
---
Stealth MBR rootkit/Mebroot/Sinowal/TDL4 detector 0.4.2 by Gmer,
[You must be registered and logged in to see this link.]
Windows 6.0.6002 Disk: TOSHIBA_MK1652GSX rev.LV011C -> Harddisk0\DR0 -> \Device\Ide\IdeDeviceP3T0L0-5
device: opened successfully
user: MBR read successfully
kernel: MBR read successfully
user & kernel MBR OK
Update Your Java (JRE)
Old versions of Java have vulnerabilities that malware can use to infect your system.
First Verify your Java Version
If there are any other version(s) installed then update now.
Get the new version (if needed)
If your version is out of date install the newest version of the Sun Java Runtime Environment.
Note: UNCHECK any pre-checked toolbar and/or software offered with the Java update. The pre-checked toolbars/software are not part of the Java update.
Be sure to close ALL open web browsers before starting the installation.
Remove any old versions
1. Download JavaRa and unzip the file to your
Desktop.
2. Open
JavaRA.exe
and choose
Remove Older Versions
3. Once complete exit
JavaRA.Additional Note:
The Java Quick Starter (JQS.exe) adds a service to improve the initial startup time of Java applets and applications. To disable the JQS service if you don't want to use it, go to
Start > Control Panel > Java > Advanced > Miscellaneous
and uncheck the box for
Java Quick Starter.
Click
OK
and
reboot
your computer.
**********************************************
I'd like to scan your machine with ESET OnlineScan
•Hold down
Control
and click on the following link to open ESET OnlineScan in a new window.
ESET OnlineScan
•Click the

button.
•For alternate browsers only: (Microsoft Internet Explorer users can skip these steps)


Click on to download the ESET Smart Installer. Save it to your desktop.

Double click on the icon on your desktop.

•Check
•Click the
button.
•Accept any security warnings from your browser.
•Check

•Push the
Start
button.
•ESET will then download updates for itself, install itself, and begin scanning your computer. Please be patient as this can take some time.
•When the scan completes, push

•Push
, and save the file to your desktop using a unique name, such as ESETScan. Include the contents of this report in your next reply.
•Push the

button.
•Push

A log file will be saved here: C:\Program Files\ESET\ESET Online Scanner\log.txt



Posts

: 4199


Joined :

2010-02-01


Operating System

: Windows 8.1 and a dual-boot with XP Home SP3



here

C:\Users\Nick F\AppData\Local\lyj.exe a variant of Win32/Kryptik.XOD trojan cleaned by deleting - quarantined
C:\Users\Nick F\AppData\Local\uwg.exe a variant of Win32/Kryptik.XNX trojan cleaned by deleting - quarantined
C:\Users\Nick F\AppData\Local\temp\slp2218294091415020101.tmp a variant of Win32/Kryptik.XTY trojan deleted - quarantined
C:\Users\Nick F\AppData\LocalLow\Sun\Java\Deployment\cache\6.0\30\9d5c39e-1cfc5bad a variant of Win32/Kryptik.XNX trojan cleaned by deleting - quarantined

That looks good. How's the computer running now?



Posts

: 4199


Joined :

2010-02-01


Operating System

: Windows 8.1 and a dual-boot with XP Home SP3



It's running fine, no attacks, no signs of it returning.
It's running fine, no attacks, no signs of it returning..
Good. We can do some cleanup.
To uninstall ComboFix


Click the Start button. Click Run. For Vista: type in Run in the Start search, and click on Run in the results pane.

In the field, type in ComboFix /uninstall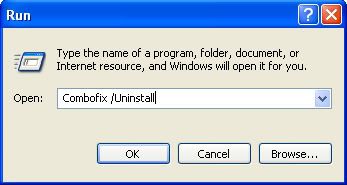 (Note: Make sure there's a space between the word ComboFix and the forward-slash.)


Then, press Enter, or click OK.

This will uninstall ComboFix, delete its folders and files, hides System files and folders, and resets System Restore.

***********************************************
Clean out your temporary internet files and temp files.

Download TFC by OldTimer to your desktop.
Double-click
TFC.exe
to run it.
Note: If you are running on Vista, right-click on the file and choose
Run As AdministratorTFC
will close all programs when run, so make sure you have saved all your work before you begin.
* Click the
Start
button to begin the cleaning process.
* Depending on how often you clean temp files, execution time should be anywhere from a few seconds to a minute or two.
*
Please let TFC run uninterrupted until it is finished.
Once TFC is finished it
should restart
your computer. If it does not, please
manually restart the computer
yourself to ensure a complete cleaning.
*************************************************
Looking over your log it seems
you don't have
any evidence of a third party firewall.
Firewalls protect against hackers and malicious intruders.
You need to download a free firewall from one of these reliable vendors.
Remember only install ONE firewall
1)
Comodo Personal Firewall
(Uncheck during installation "Install Comodo SafeSurf..", Make Comodo my default search provider" and "Make Comodo Search my homepage" and
uncheck
any HopSurf and/or Ask.com options if you choose this one)
2)
Online Armor
3)
Agnitum Outpost
4)
PC Tools Firewall Plus
If you are using the built-in Windows XP firewall, it is not recommended as it does not block outgoing connections. This means that any malware on your computer is free to "phone home" for more instructions. Simply put, Windows XP contains a mediocre firewall. This firewall is NO replacement for a dedicated software solution. Remember to use only one firewall at the same time.
**************************************************
Go to Microsoft Windows Update and get all critical updates.
----------
I suggest using WOT - Web of Trust. WOT is a free Internet security addon for your browser. It will keep you safe from online scams, identity theft, spyware, spam, viruses and unreliable shopping sites. WOT warns you before you interact with a risky website. It's easy and it's free.
SpywareBlaster- Secure your Internet Explorer to make it harder for ActiveX programs to run on your computer. Also stop certain cookies from being added to your computer when running Mozilla based browsers like Firefox.
* Using SpywareBlaster to protect your computer from Spyware and Malware
* If you don't know what ActiveX controls are, see here
Protect yourself against spyware using the Immunize feature in Spybot - Search & Destroy.
Guide
: Use Spybot's Immunize Feature to prevent spyware infection in real-time. Note: To ensure you have the latest Immunizations always update Spybot - Search & Destroy before Immunizing. Spybot - Search & Destroy FAQ
Check out Keeping Yourself Safe On The Web for tips and free tools to help keep you safe in the future.
Also see Slow Computer? It may not be Malware for free cleaning/maintenance tools to help keep your computer running smoothly.
Safe Surfing and Happy Holidays !



Posts

: 4199


Joined :

2010-02-01


Operating System

: Windows 8.1 and a dual-boot with XP Home SP3



Page 2 of 2 •

1, 2
---
Permissions in this forum:
You
cannot
reply to topics in this forum