Doctor Inferno

Site Admin




OS

:

Windows 7 Home Premium and Ultimate X64




Anti-Malware

:

Kaspersky PURE and Malwarebytes' Anti-Malware




Posts

:

11975




Rubies

:

75552




Likes

:

13



I took some photos at the Singapore Grand Prix 2010 during the finals, which was just yesterday. There were concerts and other races besides the F1 race. There are 40 photos in total, so they might take a while to load and show up. Enjoy!
Very big area inside where there are concerts, bars, clubs etc.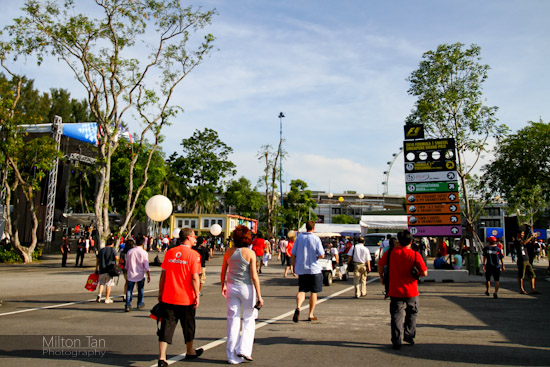 Porsche Carrera Race.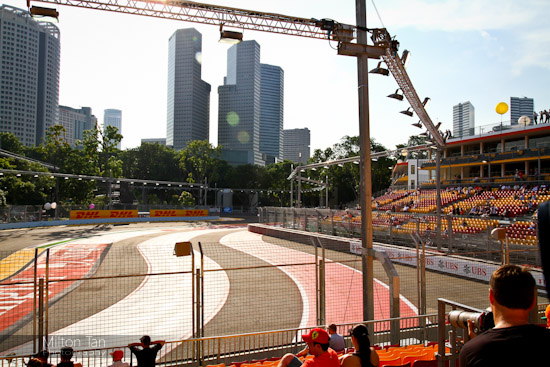 Many empty seats during this period, everyone probably went to watch the concerts.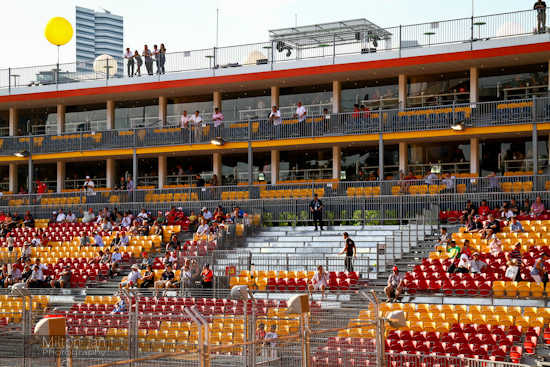 Racing...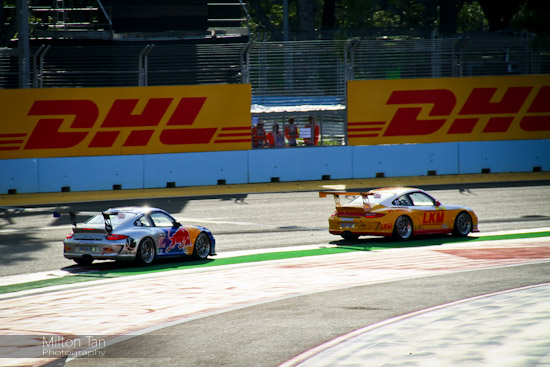 And racing...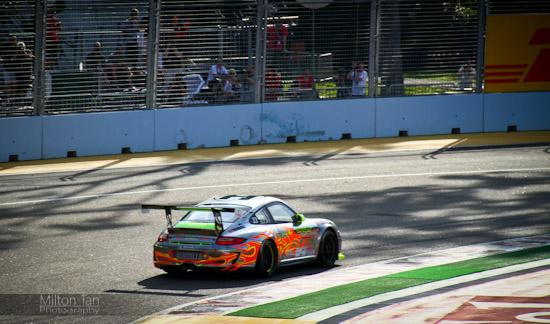 Took this shot with a low shutter speed and panned my camera across the track to keep the cars in focus and the background blurred out.
Another panning shot.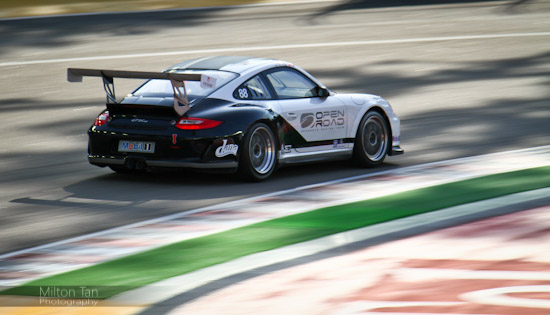 Adam Lambert performing. I realised that his actions, talking voice and dancing are rather "girly". But I love this songs!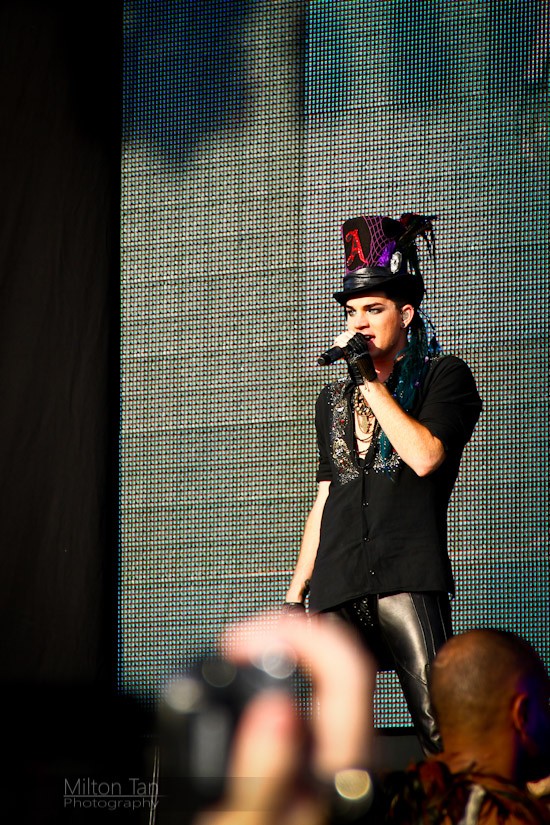 More Adam Lambert...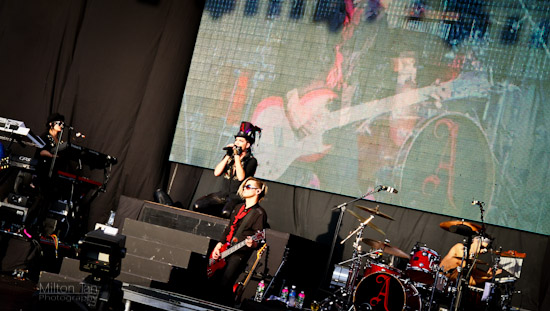 And more...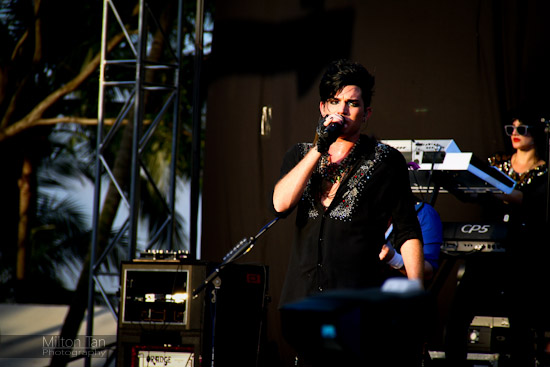 One of Adam's drummers.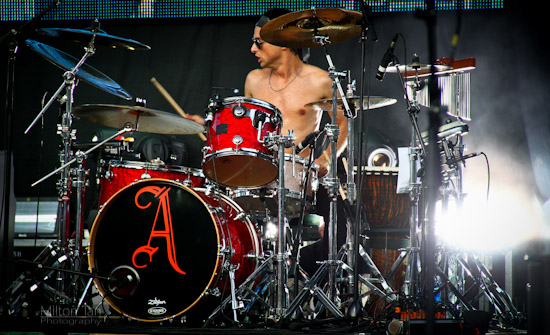 Sean Kingston was also there performing.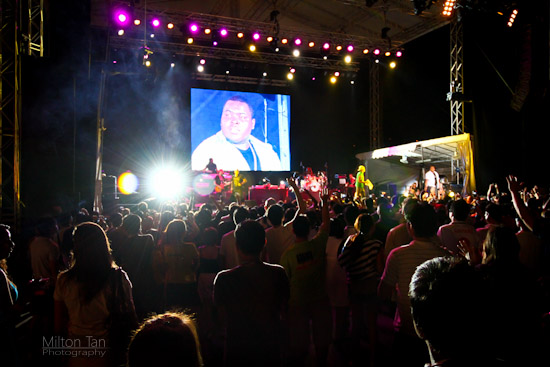 Sean Kingston again.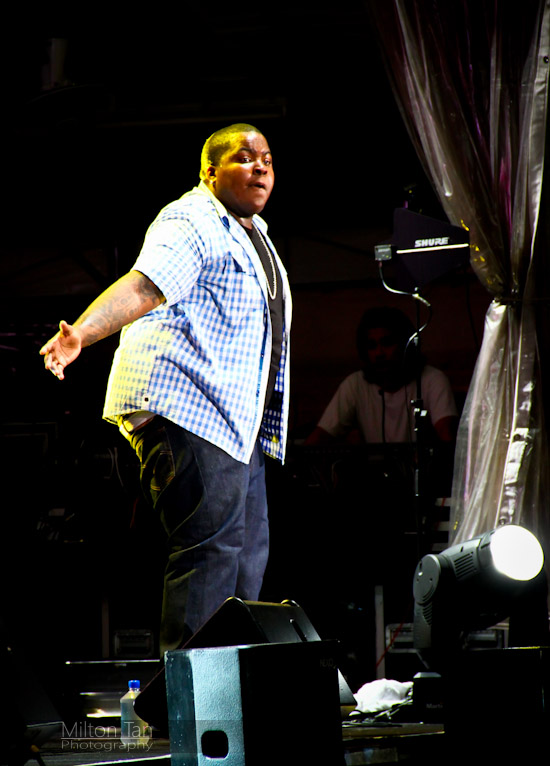 Here comes the main event, the F1 race! I was sitting at the grandstand just opposite the pit with the stupid fence blocking.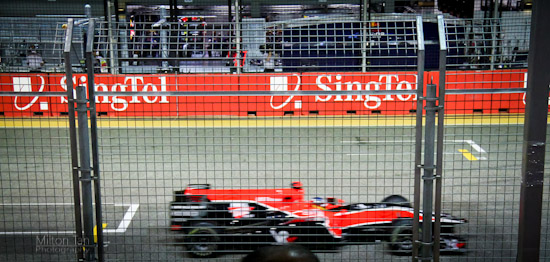 I swear you have no idea how fast the cars are moving when they're driving past the pit grandstand. Especially it's a straight road.
I had to use shutters speeds of about 1/8000 of a second to freeze the car in motion. That means the shutter opens for only
0.000125
of a second to prevent motion blur! The fastest possible by any Canon DSLR.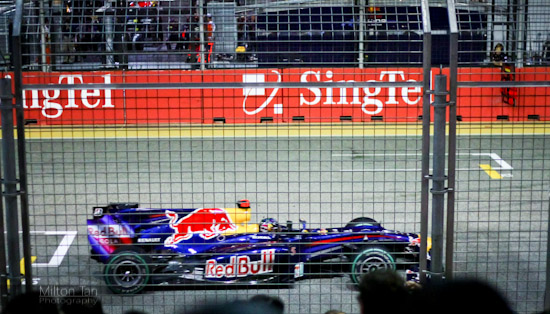 I had to use my 8 frames per seconds (8 FPS) burst just to capture the car in the centre of my frame, I got lots of blank shots too.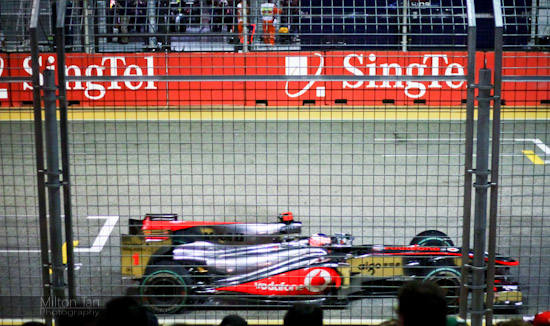 I hate that stupid fence, it spoils all my pictures.
Good thing I have a fast camera with a fast lens. Was using an f/1.8 prime lens. Pushed the ISO up to 2000.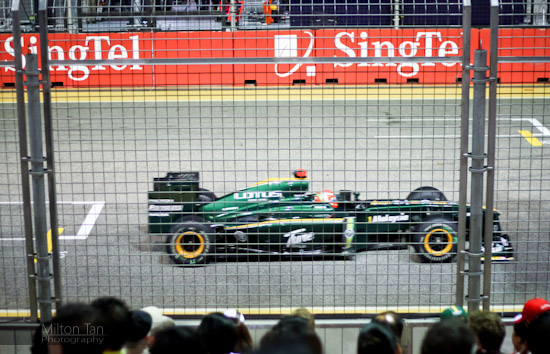 Good thing the track was bright enough too. Or else I couldn't use such high shutter speeds.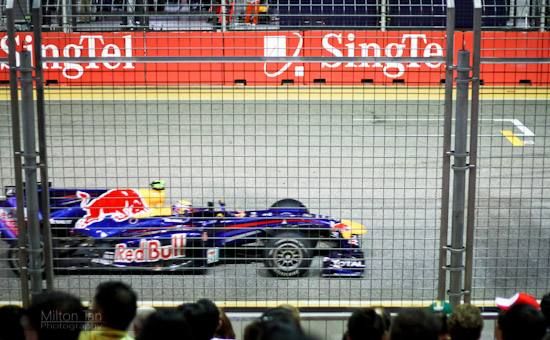 The Singapore flyer. Anyone who has a chance to visit Singapore should go up on that. Awesome view of the city from up there.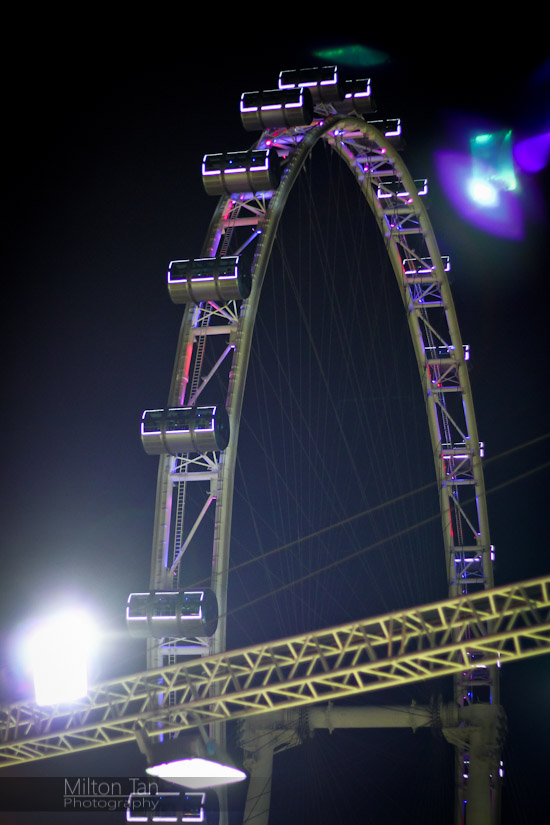 Opposite the pit grandstand, just above the pit is the...... I'm not sure what this is called, but it's for the rich guys.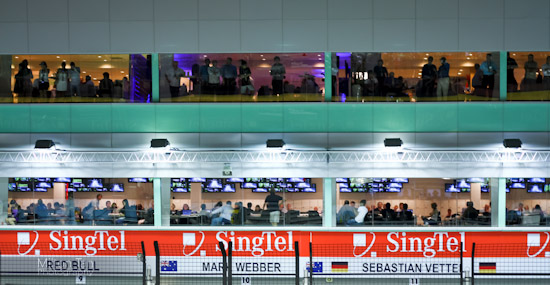 Look at how many light projectors were used to light up the track.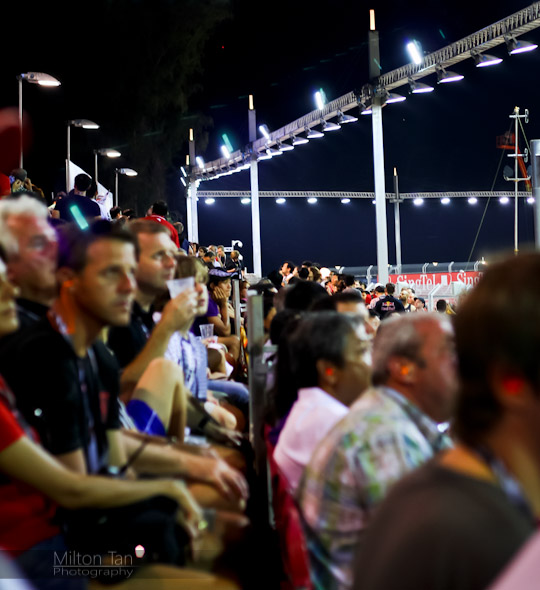 Slower shutter speed used here. 1/2000 of a second.
Even slower shutter speed here, to give a sense of motion. 1/160 of a second.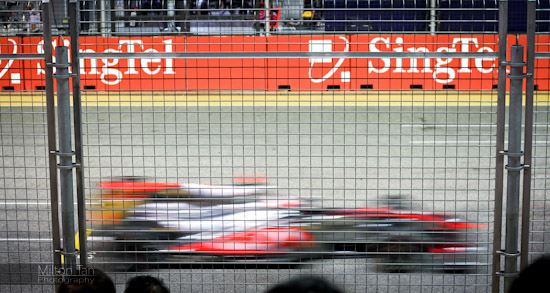 Slightly faster shutter speed this time. 1/400 s.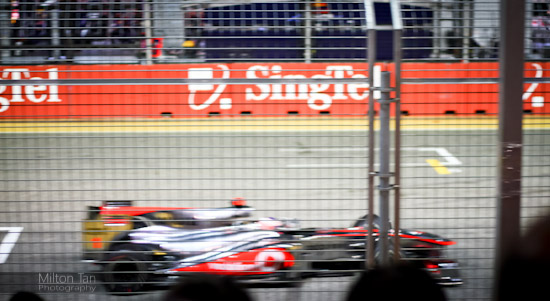 The grandstand was really, really long. So you could roughly guess how fast the drivers would want to go.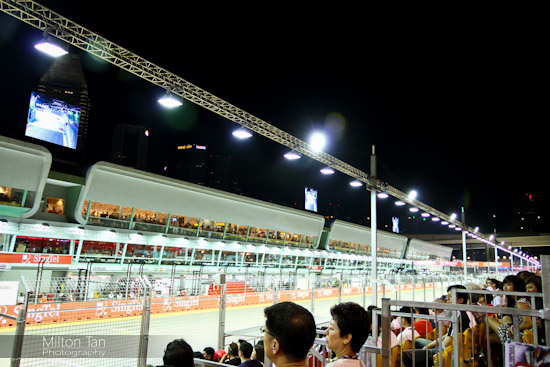 Towards the end of the race, Lotus's Heikki Kovalainen's car caught on fire.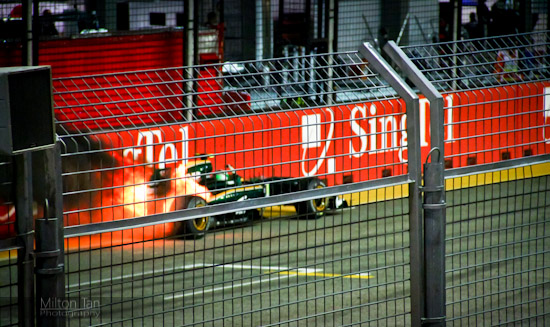 At this point, everyone on the grandstand stood up to take a picture. With their mobile phones. Mobile phones??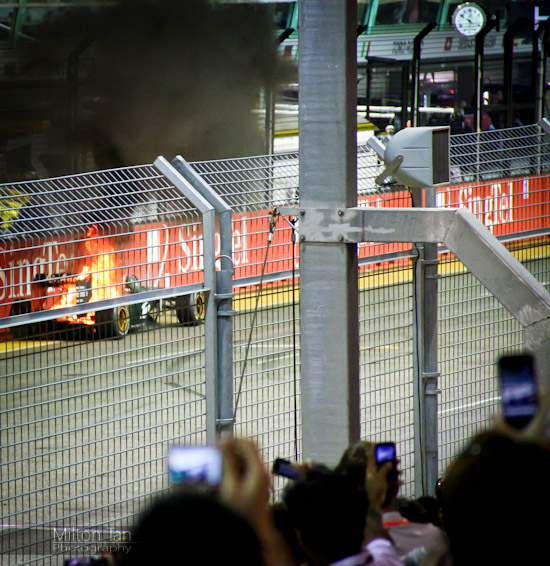 Heikki took out the Fire extinguisher. I could actually smell the burning from where I was sitting. I think it was about 100 meters away.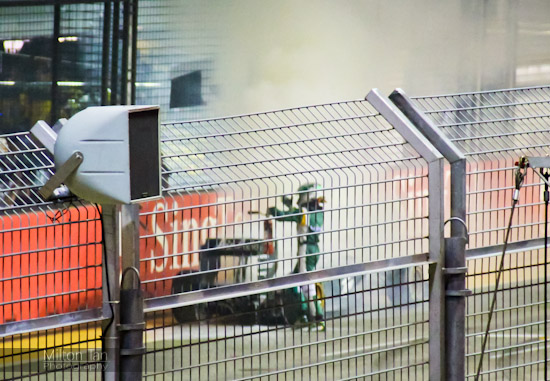 A while later... White checked flag is out! Fernando Alonso from Ferrari wins the race!!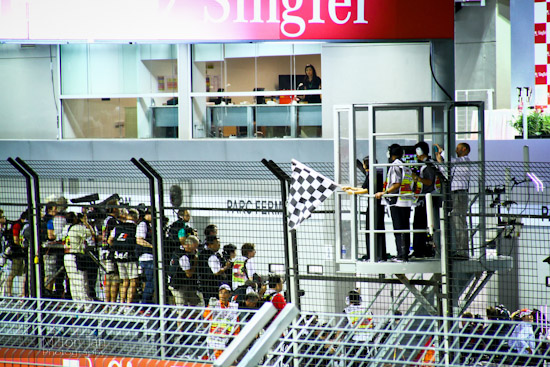 At this point, people starting climbing over the barriers to get through the opened, unlocked fence. One guy actually climbed into the pit though a small hole where they display the lap timings. It is lap timings? Not sure. Security tried to chase them to no avail.
On the left you could see how many journalists were there just to get the shots.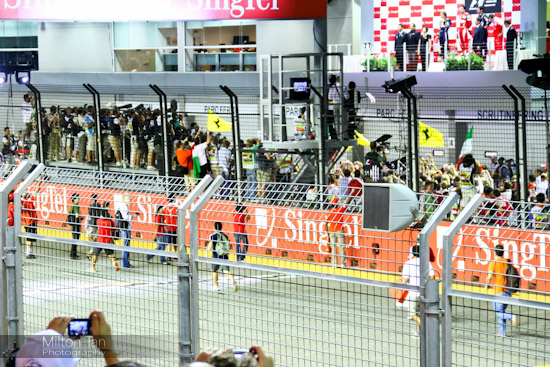 Champagne time.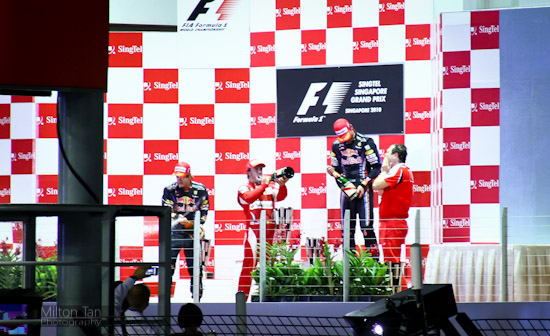 Party all the way!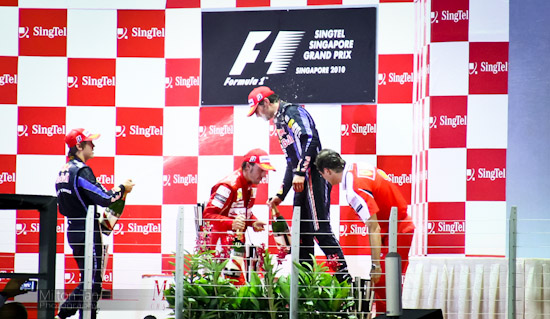 The winners waving to the cameras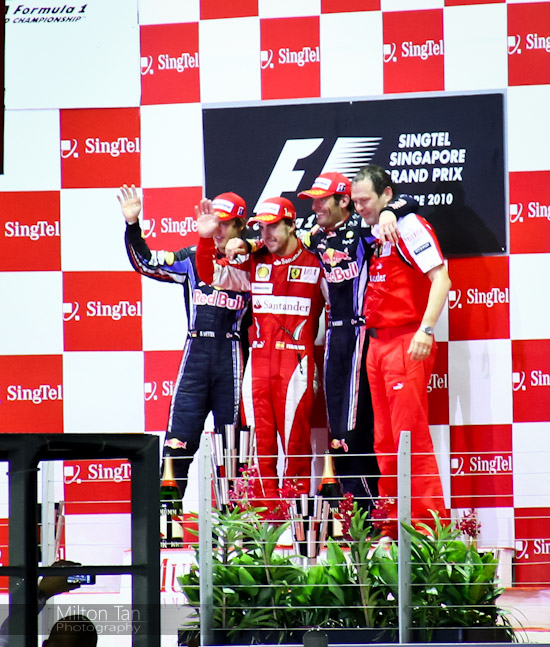 Not long after that, everyone gathered onto the track to celebrate. Security guys gave up trying to chase everyone away.
And even after Lewis Hamilton was out of the race, this guys was celebrating? Go figure. (He also posed in front of the camera for me lol)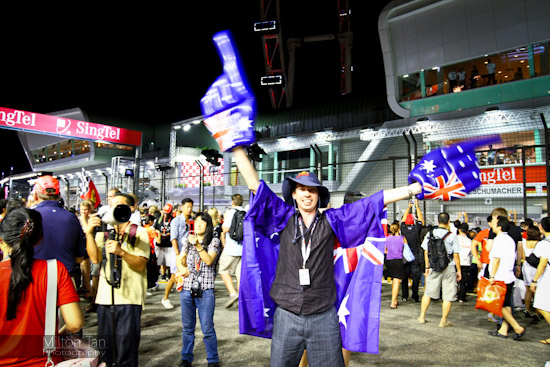 Shot into the pit area through the fence. You can't see the fence because I was using a huge aperture, zoomed in, as close to the fence as possible.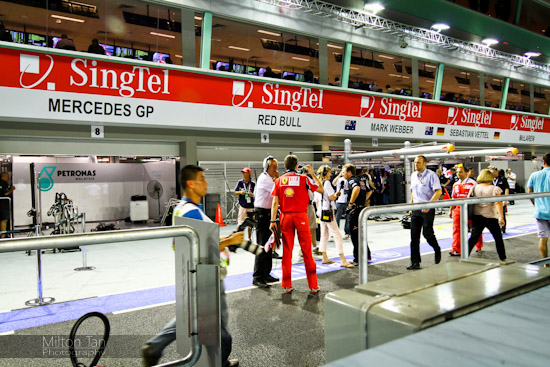 And to end it off, a good bye kiss. (This couple started kissing all of a sudden, I thought this only happened in movies!)
Spoiler:
All shots taken by me with my Canon EOS 7D. Hope you liked them!
All images © Copyright Milton Tan.
Belahzur

Site Admin




OS

:

7 Home Premium x64




Posts

:

34948




Rubies

:

218070




Likes

:

18



Amazing pictures Doc.
Glad you enjoyed it.
............................................................................................
Site Admin / Security Administrator
[Prework]
- Please PM me if I fail to respond within 24hrs.
Doctor Inferno

Site Admin




OS

:

Windows 7 Home Premium and Ultimate X64




Anti-Malware

:

Kaspersky PURE and Malwarebytes' Anti-Malware




Posts

:

11975




Rubies

:

75552




Likes

:

13



Create an account or log in to leave a reply
You need to be a member in order to leave a reply.
Log in
Already have an account? No problem, log in here.
Log in
---
Permissions in this forum:
You
can
reply to topics in this forum