WinHTTPInfo
WinHTTPSessionProxyType No proxy
Session Proxy
Session Proxy Bypass
Connect Retries 5
Connect Timeout 60000
HTTP Version HTTP 1.1
Max Connects Per 1.0 Servers INFINITE
Max Connects Per Servers INFINITE
Max HTTP automatic redirects 10
Max HTTP status continue 10
Send Timeout 30000
IEProxy Auto Detect Yes
IEProxy Auto Config
IEProxy
IEProxy Bypass
Default Proxy Config Access Type No proxy
Default Config Proxy
Default Config Proxy Bypass
Modem:2wire 2700HG-B uses At&T
Okay so I've been getting this warning meesage from my modem constaly that my device which is this computer has too many simultaneous Internet sessions opened
Heres a screen: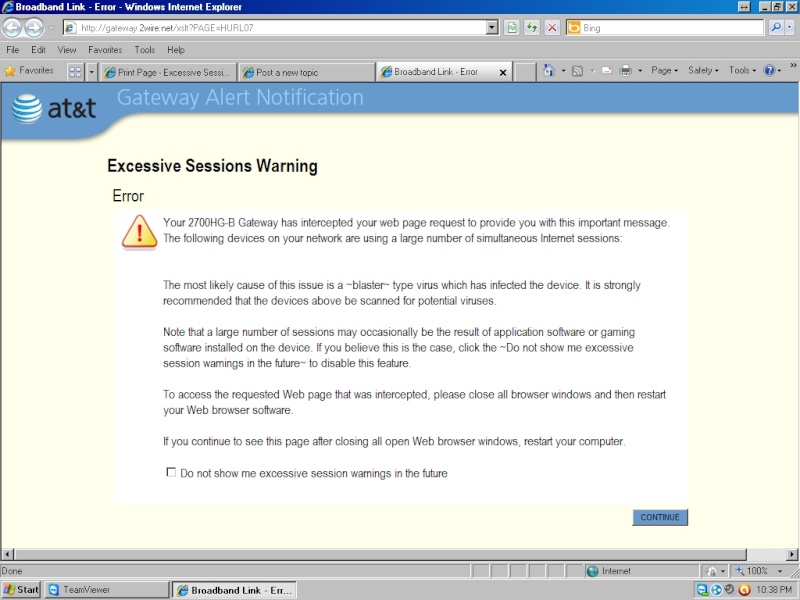 This has been happening for about 4 days now, and I have pretty much ignored it but its becoming troublesome it will tell me to close my browser every time to continue surfing can some plz help me out thankz in advanced
Hello. Glad to have you here at GeekPolice.

Please wait here, while I refer you to an excellent Tech Advisor or other staff.

Manager | Tech Officer





Posts

: 13451


Joined :

2009-09-07


Operating System

: Windows 7 Ultimate



Hello,

What type of Modem / Router are you using ?
Regards,
Captain MVP
Tech Advisor - GP


It is considered
courteous to post a reply if you have been able to resolve your
problem, or received an answer to your question.



Posts

: 321


Joined :

2010-09-28


Operating System

: Windows 7 Ultimate, Ubuntu 10.04



Bump

2wire 2700HG-B uses At&T

Hi, would you like to open new thread in Virus, Spyware & Malware Removal . We have to check first for potential malware on your computer.
Visit us on social networks :
GeekPolice on Facebook! - GeekPolice on Twitter!

Tech Advisor





Posts

: 2343


Joined :

2008-08-04


Operating System

: Windows 7 Professional 64bit



---
Permissions in this forum:
You
cannot
reply to topics in this forum