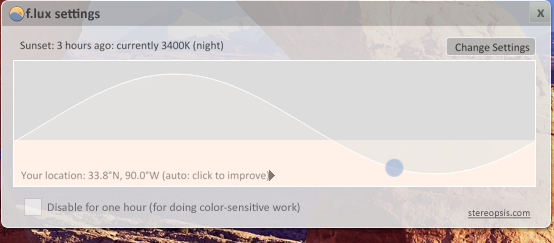 What it is
Basically, F.lux is a tool that is designed to help your eyes while using your computer at night. At predetermined times, F.lux makes your screen turn a sepia tone, which helps relieves eye strain.
Pros:
-Runs on every desktop operating system. There are versions for Windows, Mac OS X, and Linux (GNOME, KDE, XFCE, etc.).
-Super simple configuration. On Windows, you can run the installer, and F.lux configures all of the time settings for you.
-Screen temperatures (tints) are completely adjustable.
-Option to disable screen tinting for one hour
and most importantly...
-It works. The sepia tone on the screen is much easier on the eyes at night.
Cons:
-Automatic tinting gets annoying when you are working on something that requires crisp and accurate colors (such as gaming or image manipulation)
Bottom Line:
-If your eyes strain at night, or you just want easier reading, try out F.lux.
Rating: 9.5 out of 10. It does its job, and that's all you can ask from this program.Download F.lux
Intermediate




Posts : 136
Joined : 2010-05-15
Gender :
OS : Windows 7
Points : 24693
# Likes : 0



Indeed. I have been using F.lux for about 1 year. It has substantially helped my eyes become resistant from the fluorescence of the LCD screen.
Dr. Jay (DJ)

Virus Removal
~
OS Support
~
Have we helped you? Help us!
~
Fun Stuff
Head Administrator




Posts : 13812
Joined : 2009-09-06
Gender :
OS : Windows 10 Home & Pro
Arch. : x64 (64-bit)
Protection : Bitdefender Total Security
Points : 302439
# Likes : 10



I've needed a program like this for ages, I just never knew that such a program existed. Thank you for enlightening me (and protecting my eyes)
Master




Posts : 3292
Joined : 2008-03-03
Gender :
OS : Windows 7 x64
Protection : McAfee Security Center
Points : 40883
# Likes : 0



Administrator




Posts : 12015
Joined : 2007-12-26
Gender :
OS : Windows 7 Home Premium and Ultimate X64
Protection : Kaspersky PURE and Malwarebytes' Anti-Malware
Points : 104620
# Likes : 0



---
Permissions in this forum:
You
cannot
reply to topics in this forum