Hi! Im new to GP. I dont know what to say here...
After 4 yrs hiatus Im back in the saddle. I just got two new certificates to keep my other "pedigree letters" company. (trust me...no PHd or masters...only BS and BA) LOL

Im currently Tier 1, 2, 3, 4 etc...HD as well as tech writer, user trainer, audio/video coordinator, and web goddess. (Not in that order). Im what I like to call: Jane of all trades, Mistress of none.

Lately have been fighting some seriousl back door viruses at work and my last class got me totally interested in Cryptography and computer forensics. I just got a win7 laptop that I will be beta testing at work...they are all XP right now and I have a Vista at home.

To me, software and hardware are all the same, just buttons and icons may be in different places or called different things. Always a learning curve--but that just makes life so much more interesting doesnt it?

I hope I can be as helpful to ya'all as I can as well as you can help me too.
have a great weekend.
Beginner




Posts : 1
Joined : 2010-06-01
Gender :
OS : vista, XP and soon win7
Protection : Mcaffee, Norton, AVG
Points : 23853
# Likes : 0



Welcome to GeekPolice, glad to have you around.
Administrator




Posts : 11976
Joined : 2007-12-26
Gender :
OS : Windows 7 Home Premium and Ultimate X64
Protection : Kaspersky PURE and Malwarebytes' Anti-Malware
Points : 104650
# Likes : 0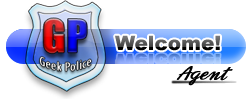 FunSubstance
is the place to go for daily entertainment.
Master




Posts : 3247
Joined : 2008-03-07
Gender :
OS : Windows 7
Protection : ESET Smart Security
Points : 50488
# Likes : 0



---
Permissions in this forum:
You
cannot
reply to topics in this forum