Hello and MAN do I need Help!!!
Can I get help with searchfilterhostexe.is infected
Hello, and welcome to GeekPolice.
Please note the following information about the malware forum:
Only Tech Officers, Global Moderators, Administrators, and Malware Advisors are allowed to give advice on removing malware from your computer.

From this point on, please do not make any more changes to your computer; such as install/uninstall programs, use special fix tools, delete files, edit the registry, etc. - unless advised by the staff I noted above.

Please do not ask for help elsewhere (in this site or other sites). Doing so can result in system changes, which may not show up in the logs you post.

If you have already asked for help somewhere, please post the link to the topic you were helped.

We try our best to reply quickly, but for any reason we do not reply in two days, do one of two things:

Reply to this topic with the word BUMP, or
see [You must be registered and logged in to see this link.].


Lastly, keep in mind that we are volunteers, so you do not have to pay for malware removal. Persist in this topic until its close, and your computer is declared clean.
---
Please visit this webpage for a tutorial on downloading and running ComboFix:
[You must be registered and logged in to see this link.]
See the area:
Using ComboFix
, and when done, post the log back here.
[You must be registered and logged in to see this link.]
- Get $30 off Kaspersky products.
~DMJ
GeekPolice Academy Manager
Donations/Contributions

Manager | Tech Officer





Posts

: 13451


Joined :

2009-09-07


Operating System

: Windows 7 Ultimate



Thanks but I got the issue fixed. Maybe I'll have to ask for help again but until then, this is a great site and thanks for the commitment
Most of the time, when you have originally detected the malware issue, it means the computer is infected by malware of some sort. Antivirus scanners may not show a sign of the malware still being there, which could be a sign of a rootkit.
Whenever rootkit scanners, and antivirus software scan for the rootkit, it gets as close to the system kernel as possible. If the rootkit is beyond that point, it will not be detected.
So, the idea is, is when you post to a forum that you need help removing malware, it is best to stay with the helper, to ensure your computer is clean. However, it is up to you to continue or not.
But, if you do not want anymore help, and you used ComboFix, please make sure this gets done:
To uninstall ComboFix
Click the Start button. Click Run. For Vista: type in Run in the Start search, and click on Run in the results pane.

In the field, type in ComboFix /uninstall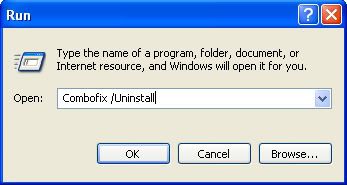 (Note: Make sure there's a space between the word ComboFix and the forward-slash.)
Then, press Enter, or click OK.

This will uninstall ComboFix, delete its folders and files, hides System files and folders, and resets System Restore.
[You must be registered and logged in to see this link.]
- Get $30 off Kaspersky products.
~DMJ
GeekPolice Academy Manager
Donations/Contributions

Manager | Tech Officer





Posts

: 13451


Joined :

2009-09-07


Operating System

: Windows 7 Ultimate



---
Permissions in this forum:
You
cannot
reply to topics in this forum