Hi there, GeekPolice Forums!

I'm copywriter. I guess I have joined you because I got infected with the Digital Protection virus tonight at 1130pm. I'm understandably upset; I was right in the middle of Tweeting with my copywriting friends when my computer literally began to act weird and I got a message from Digital Protection. It tried to delete my malwarebytes. I knew something was amiss and immediately fired up Malwarebytes. I read about your forum on Yahoo Answers and that is how I arrived here. Seems Digital Protection is a new virus.

Really sorry - this is not the best introductory message to start out on a new forum with.

Hope everyone here is having a great evening. You have an impressive forum here - I'm definitely impressed!!
Beginner




Posts : 3
Joined : 2010-04-10
OS : Windows Home
Points : 24317
# Likes : 0



Hello,
Welcome to GeekPolice! If you require help please post a new topic
here
.
Administrator




Posts : 12017
Joined : 2007-12-26
Gender :
OS : Windows 7 Home Premium and Ultimate X64
Protection : Kaspersky PURE and Malwarebytes' Anti-Malware
Points : 104594
# Likes : 0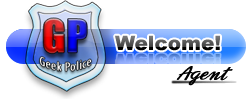 FunSubstance
is the place to go for daily entertainment.
Master




Posts : 3269
Joined : 2008-03-07
Gender :
OS : Windows 7
Protection : ESET Smart Security
Points : 50432
# Likes : 0



---
Permissions in this forum:
You
cannot
reply to topics in this forum