Hi. I am using an xp machine. It has been working fine until recently.
I executed Revouninstaller's "evidence remover' tool. It was halfway through the job(about 92% done) when I was operating other softwares and caused the system to lag. Since my system was so slow, I thought I would give it a reboot. This is when the problem started.
Incessant notifications from the taskbar starting showing up, giving me an error: ' Windows-Delayed Write Failed. ' . It would not go away no matter how many times I clicked the x button as some more kept coming. I have googled up and followed solutions from microsoft but to no avail.
I cannot defragment my computer for some unknown reason( comodo time machine commented that I had low free space on the disk) However, to refute that comment, I checked my disk space and found that it was 19GB of free space. Could somebody please help me resolve my woes?
[img]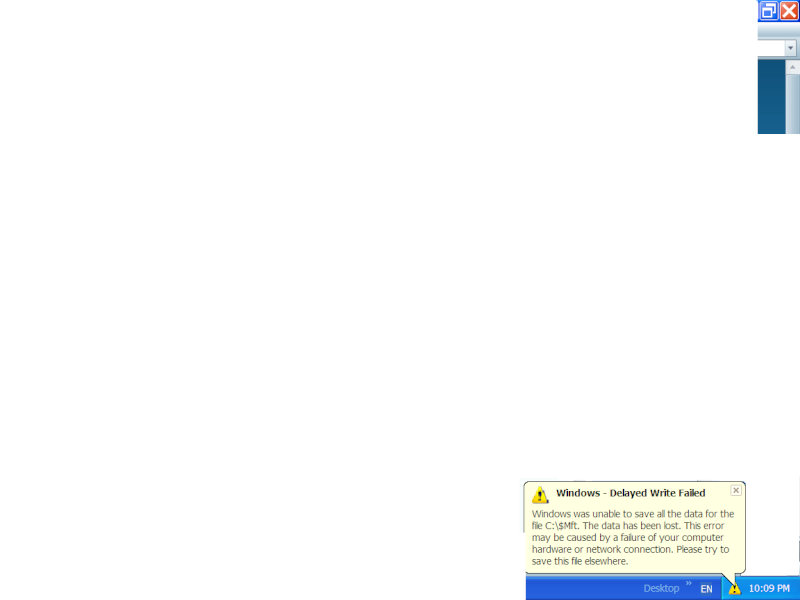 [/img]
Intermediate





Status

:


Posts

: 138


Joined

: 2008-12-12


Gender

:


OS

: Windows XP Professional, Windows 7 Enterprise, Windows 8 Professional WMC, Ubuntu Linux


Points

: 30140


# Likes

: 0



Defined from Microsoft:

Delayed Write Failure
Data corruption may occur if the Large System Cache feature is enabled in Windows XP. This problem does not occur on all systems. The key ingredients that lead to data corruption may include: • System Memory greater than 512 Meg. (1 gigabyte of RAM is common)
• Large NTFS disk volumes and multiple large volumes. (60-100 gigabyte hard drives possibly in RAID arrays)
• AGP graphics with large AGP resource requirements (AGP aperture greater than default)
• Large file transfers. This problem occurs when the computer runs out of system page table entries. Windows determines (at boot time) the default number of page table entries to assign, based on the amount of system memory available.

Reboot the PC and run scandisk and check to see if everything is ok, it possibly might not even come back due to the special program you were running.


MiKeY

MCITP \ MCSE \ CompTia A+ \ Server+ \ Security+
Senior





Status

:


Posts

: 216


Joined

: 2009-08-06


Gender

:


OS

: Windows 7 X64


Points

: 29024


# Likes

: 0



Thank you for your prompt reply. I apologise that I replied so late. I managed to solve the problem with a repair install. However, my registry was already badly corrupted. Thus, I am reformatting my computer. Thank you very much for your kind advice.
Intermediate





Status

:


Posts

: 138


Joined

: 2008-12-12


Gender

:


OS

: Windows XP Professional, Windows 7 Enterprise, Windows 8 Professional WMC, Ubuntu Linux


Points

: 30140


# Likes

: 0



Good Deal restore it to original is the best , but be carfeul before you reformat that you know how to get it back up and running i.e. Do you have restore disc , part of the hard drive you can restore from, winodws x operating system disc to reinstall the O/S


MiKeY

MCITP \ MCSE \ CompTia A+ \ Server+ \ Security+
Senior





Status

:


Posts

: 216


Joined

: 2009-08-06


Gender

:


OS

: Windows 7 X64


Points

: 29024


# Likes

: 0



---
Permissions in this forum:
You
cannot
reply to topics in this forum