IBM Roadrunner - Currently The World's Fastest Supercomputer!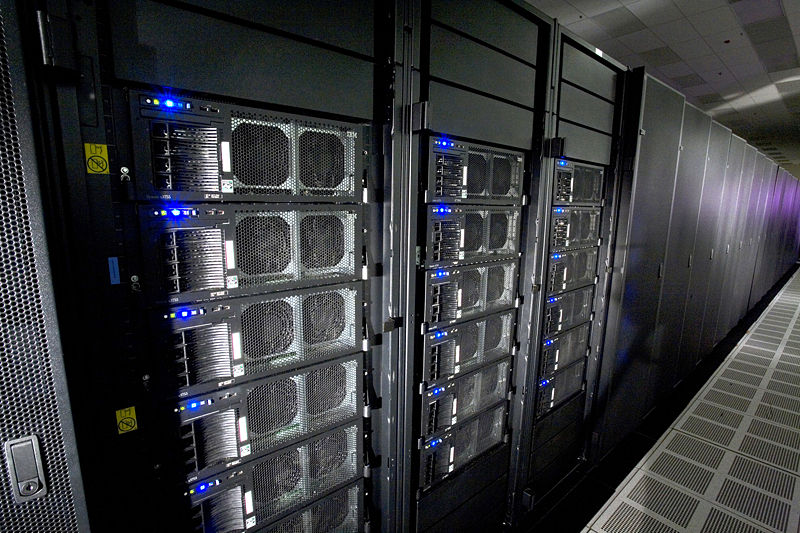 Roadrunner is a supercomputer at the Los Alamos National Laboratory in New Mexico, USA. Currently the world's fastest supercomputer, the US$133 million Roadrunner is designed for a performance level of
1.026 petaflops
peak, which it reached on May 25, 2008, and to be the world's first TOP500 Linpack sustained 1.0 petaflops system.
IBM built the computer for the U.S. Department of Energy (DOE). It is a hybrid design with almost 6,912 AMD Opteron dual core processors and almost 12,960 IBM PowerXCell 8i CPUs in special designed TriBlades connected by Infiniband.
- It occupies approximately 12,000 square feet (1,100 mē)
- Logically, a TriBlade consists of four Opteron cores, four PowerXCell 8i CPUs, 16 GB Opteron and 16 GB Cell RAM.
Connected Unit (CU):
A connected unit is 60 BladeCenter H full of TriBlades, that is 180 TriBlades. All TriBlades are connected to a 288-port Voltaire ISR2012 Infiniband switch. Each CU also has access to the Panasas file system through twelve System x3655 machines.
CU system information:
* 360 dual-core Opterons with 2.88 TiB RAM
* 720 PowerXCell cores with 2.88 TiB RAM
* 12 System x3655 with dual 10GBit Ethernet each
* 288-port Voltaire ISR2012 switch with 192 Infiniband 4x DDR links (180 TriBlades and twelve I/O nodes)
The final cluster is made up of 18 connected units, which are connected via eight additional (second-stage) ISR2012 switches. Each CU is connected through twelve uplinks each second-stage switch, that makes a total of 96 uplink connections.
Overall system information:
* 6,912 Opteron cores with 51.8 TiB RAM (in 3,240 LS21 blades)
* 12,960 Cell cores with 51.8 TiB RAM (in 6,480 QS22 blades)
* 216 System x3655 I/O nodes
* 26 288-port ISR2012 Infiniband 4x DDR switches
* 296 racks
Last edited by Doctor Inferno on 11th June 2008, 2:18 pm; edited 1 time in total
Administrator




Posts : 12015
Joined : 2007-12-26
Gender :
OS : Windows 7 Home Premium and Ultimate X64
Protection : Kaspersky PURE and Malwarebytes' Anti-Malware
Points : 104610
# Likes : 0



Leader




Posts : 614
Joined : 2008-02-19
Gender :
OS : ms dos?
Points : 32491
# Likes : 0



Is all that power necessary?
Leader's Leader




Posts : 1027
Joined : 2008-01-01
Gender :
OS : windows xp, 7
Points : 33662
# Likes : 3



IBM ftw. The petaflop speeds blew me away
Leader




Posts : 614
Joined : 2008-02-19
Gender :
OS : ms dos?
Points : 32491
# Likes : 0



---
Permissions in this forum:
You
cannot
reply to topics in this forum