Howdy to everyone! My name is Synn and I am sooo glad to have found this site. I am so tired of having to take my computer to Best Buy or somewhere like it and have to pay "lots of tortillas" lol just to have a damn virus in it the next week. I feel here on this site are some mighty fine people with some huge knowledge that could help me whenever I have a problem. I have AVG protection and even though it says I have nothing detected, I have alot of advertisements pop
up on almost every page. The kind that sound like tv commercials. I hope to get this problem resolved and hopefully keep the worms and viruses off my computer.
Thank you kindly and everyone have a Great day!
Beginner




Posts : 3
Joined : 2010-01-22
OS : Windows XP
Points : 25111
# Likes : 0



Glad to have you around.
Administrator




Posts : 12017
Joined : 2007-12-26
Gender :
OS : Windows 7 Home Premium and Ultimate X64
Protection : Kaspersky PURE and Malwarebytes' Anti-Malware
Points : 104594
# Likes : 0



Hello and welcome
to
GeekPolice.net
!
Please make yourself at home, and read the
New Members Guide
, which will help you get started here on the forum.
Should you have any questions, post back
here
in this topic, and
we will be glad to help
.
Dr. Jay (DJ)

Virus Removal
~
OS Support
~
Have we helped you? Help us!
~
Fun Stuff
Head Administrator




Posts : 13713
Joined : 2009-09-06
Gender :
OS : Windows 10 Home & Pro
Protection : Bitdefender Total Security
Points : 302069
# Likes : 10



Master




Posts : 3292
Joined : 2008-03-03
Gender :
OS : Windows 7 x64
Protection : McAfee Security Center
Points : 40853
# Likes : 0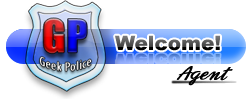 FunSubstance
is the place to go for daily entertainment.
Master




Posts : 3269
Joined : 2008-03-07
Gender :
OS : Windows 7
Protection : ESET Smart Security
Points : 50432
# Likes : 0



Welcome to GeekPolice, enjoy your stay.

"I can handle pain till it hurts"
Leader's Leader




Posts : 1028
Joined : 2008-01-01
Gender :
OS : windows xp, 7
Points : 33645
# Likes : 3



---
Permissions in this forum:
You
cannot
reply to topics in this forum