Hi, I hope u can help as im going crazy right now!
I INSTALLED WINDOWS XP FROM A DISC AS THE 2ND HAND (VERY OLD) COMPUTER I HAVE DIDNT HAVE A WORKING OS, i HAVE A BRAND NEW HANNSPREE MONITOR BUT I CANT FIND THE CD-ROM TO CONFIGURE IT. NOW THERE IS NO SOUND AT ALL, I CAN'T WATCH ANY VIDEO, EVERYTHING ON SCREEN IS WAY TOO BIG BUT IT WONT LET ME CHANGE THE RESOLUTION AT ALL. IT IS STUCK ON THE LOWEST LEVEL AND EVERYTHING TO DO WITH ADJUSTING THE RESOLUTION AND SOUND IS ALL GRAYED OUT.
CAN I DOWNLOAD A DRIVER FROM SOMEWHERE TO FIX THIS OR IS THERE SOMETHING WRONG WITH THE WINDOWS DISC I INSTALLED??? DO I NEED A VIDEO CARD DRIVER...HAVE I EVEN GOT A VIDEO CARD?
I'M SO STUCK AND WOULD GRATELY APPRECIATE SOME HELP...PLEASE REPLY IN AS PLAIN ENGLISH AS POSS AS I'M A NOVICE WITH COMPUTERS!
THANKS IN ADVANCE FOR YOUR TIME
STACEY
P.S SORRY I LEFT THE CAP LOCK ON
Novice




Posts : 9
Joined : 2009-09-14
Gender :
OS : WINDOWS XP
Points : 26415
# Likes : 0



Hello,

You might need to install your graphic driver.
Administrator




Posts : 12015
Joined : 2007-12-26
Gender :
OS : Windows 7 Home Premium and Ultimate X64
Protection : Kaspersky PURE and Malwarebytes' Anti-Malware
Points : 104600
# Likes : 0



1. Click the
Start button
in the bottom left hand corner of your screen
2. Click
Run..
3. Type
dxdiag
(which stands for DirectX diagnostic Tool) and it will open a new window
3a. If a question box comes up just click yes.
4. In the new window select the
Display
tab.
5. Under the device section you should now see the name of the video card you have.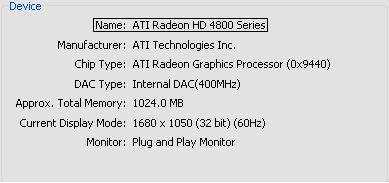 You can now google for a video card driver or if you want a direct link just post you graphics card name here.
Intermediate




Posts : 57
Joined : 2009-01-18
OS : Windows 7 Ultimate SP1
Points : 29202
# Likes : 0



---
Permissions in this forum:
You
cannot
reply to topics in this forum