I have a bunch of PDF files that I'd like to compress to small enough sizes to e-mail. Ideally I'd like to compress them all into a single file but I'm not sure if that is something that is realistic to expect. I get the feeling that I'm missing something pretty basic but is there any software (or any way) to do this? Thanks.
Novice




Posts : 20
Joined : 2009-11-06
OS : windows 7
Points : 25957
# Likes : 0



Administrator




Posts : 11976
Joined : 2007-12-26
Gender :
OS : Windows 7 Home Premium and Ultimate X64
Protection : Kaspersky PURE and Malwarebytes' Anti-Malware
Points : 104650
# Likes : 0



Thank you. I have one more question about this. I'm having trouble getting them to compress small enough for my e-mail program to handle (it won't do attachments over 10 MB). The file I'm trying to compress is a total of 612 MB. The individual files in it range from 5 MB to 168 MB. The smallest I can get it down to is 590MB. Am I missing a setting or are these files just too big? I can break them into archive files (the ones that end in .00#) that can be joined back together but that leaves me with a huge number of files that I'd have to be e-mailing.
Novice




Posts : 20
Joined : 2009-11-06
OS : windows 7
Points : 25957
# Likes : 0



Hi, it's not safe to send big files through email. Better upload to some free storage. Uploading.com or something like that. With 7-zip you can split big files to small one. Just put size of file in bytes like i post you on picture below. And, something important - Create
ZIP
file!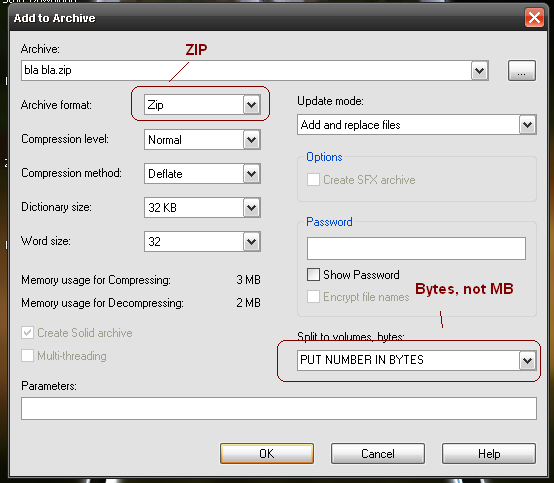 You can fine MB to Bytes converter here
http://www.unitconversion.org/data-storage/megabytes-to-bytes-conversion.html
Top Dog




Posts : 2330
Joined : 2008-08-03
Gender :
OS : Windows 7 Professional
Points : 40505
# Likes : 1



---
Permissions in this forum:
You
cannot
reply to topics in this forum