I am trying to set up folder options in Windows Explorer so that each time I open a folder, the 'details' of the files contained are displayed, not their icons or any of the other possibilities. I want this to be a permanent change, not something I have to do each time I view the contents of a folder. I've tried to accomplish this in 'Preferences' but this to date has not been successful. Any hints or tips would be greatly appreciated. Thanks.

Brad
Hello,
Do you mean the details view option? Or if you want to view the file detail, there's a pane in the bottom of Explorer which lets you view all the details you need, here's an example of mine: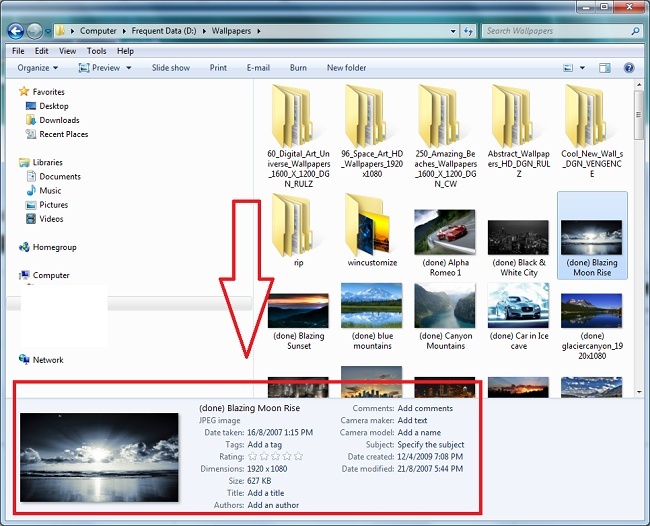 Administrator





Status

:


Posts

: 12017


Joined

: 2007-12-26


Gender

:


OS

: Windows 7 Home Premium and Ultimate X64



Yes - I want the details view option.
Hello,

Do you have the menu bar in Explorer? If you do not, go to Organize >> Layout >> Check Menu bar. Under View select [b]Details.
Administrator





Status

:


Posts

: 12017


Joined

: 2007-12-26


Gender

:


OS

: Windows 7 Home Premium and Ultimate X64



Thanks so much for the tip but unfortunately, this still doesn't do the trick for me. My specific issue concerns an 'Image' folder that I have on an external hard drive. Under that folder I have many additional ones for each of my cameras, and there are many subfolders for each camera. Even when I'm viewing just the 'Image' folder and set the view to 'details' and additionally go to a second tab and check the box to have this view apply to all folders of this sort, it still doesn't work. I can find many subfolders in which the view generates thumbnails instead of the detail list. I'm perplexed!

Brad
Administrator





Status

:


Posts

: 12017


Joined

: 2007-12-26


Gender

:


OS

: Windows 7 Home Premium and Ultimate X64



---
Permissions in this forum:
You
cannot
reply to topics in this forum