Hello, it's all very nice to meet you people. I'm new to this community, but I look forward to meeting each and every one of you. Even if it means I have to meet 10,000 of you. A couple things to know about me is that I am definitely a Grammar Nazi. I like to keep my Grammar nice and clean, and always put correct punctuation. I currently live in Osaka, Japan. I use to live in the United States before when I was little, but no longer do. I still have fluent English so you won't have to worry about me having a little trouble talking to you. Well that's about it, it was very nice to be able to introduce myself to this community, I hope we can go further in touch.
Novice




Posts : 9
Joined : 2009-11-16
OS : Windows XP
Points : 25763
# Likes : 0



Master




Posts : 3292
Joined : 2008-03-03
Gender :
OS : Windows 7 x64
Protection : McAfee Security Center
Points : 40843
# Likes : 0



Top Dog




Posts : 2343
Joined : 2008-08-03
Gender :
OS : Windows 7 Professional
Points : 40435
# Likes : 1



Glad to have you around.
Administrator




Posts : 12017
Joined : 2007-12-26
Gender :
OS : Windows 7 Home Premium and Ultimate X64
Protection : Kaspersky PURE and Malwarebytes' Anti-Malware
Points : 104584
# Likes : 0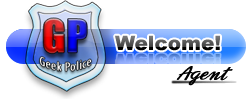 FunSubstance
is the place to go for daily entertainment.
Master




Posts : 3269
Joined : 2008-03-07
Gender :
OS : Windows 7
Protection : ESET Smart Security
Points : 50422
# Likes : 0



Welcome to GP
Leader




Posts : 588
Joined : 2008-06-21
OS : Windows 7 Home Premium
Points : 31415
# Likes : 0



Similar topics
---
Permissions in this forum:
You
cannot
reply to topics in this forum