My computer has Norton Anti-virus operating. My wife or son was surfing the web and somehow alpha anti virus appeared. One of them downloaded Spyware Dr to get rid of it. This did not go away. We did get rid of it thanks Geekpolice. My question is what is the best and most economical anti-virus/spyware I should use?
Beginner




Posts : 1
Joined : 2009-11-01
OS : vista
Points : 25903
# Likes : 0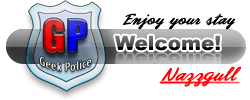 Hi and welcome to Geek Police,
If your not sure you removed Alpha Antivirus ,
you can always read guide by
Doctor Inferno
-
How to remove Alpha Antivirus
Norton is very good antivirus software, and you should stay on it for now. My suggestion for antivirus -
Avast Home Edition
or
AVG Free Antivirus.
You can find both of tem on Filehippo.com for free. Keep your antivirus updated for better protection.
Enjoy.
Top Dog




Posts : 2343
Joined : 2008-08-03
Gender :
OS : Windows 7 Professional
Points : 40435
# Likes : 1



For free antiviruses you can check these out:

-Avast
-AVG
-Avira

I recommend Avast or Avira.
Administrator




Posts : 12017
Joined : 2007-12-26
Gender :
OS : Windows 7 Home Premium and Ultimate X64
Protection : Kaspersky PURE and Malwarebytes' Anti-Malware
Points : 104584
# Likes : 0



Similar topics
---
Permissions in this forum:
You
cannot
reply to topics in this forum