I have an nvidia 8800GT. My monitor is a Acer AL2017 20 inch lcd. The desktop is set to stretch and yet it appears off.
I have tried several different ones and none work. the only way I have sorta fixed it is if I set a wallpaper then do a rollback. The wallpaper will properly size itself until it change it to another then the only one that works is the one that was set while the rollback was being done.
Sorry for the lack of serious wallpaper, but it really isn't what matters.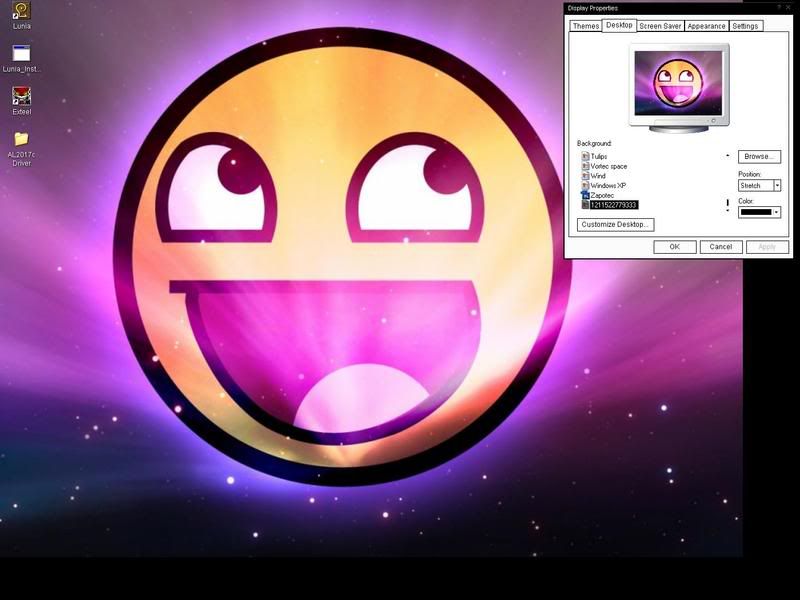 Beginner




Posts : 2
Joined : 2008-05-23
Points : 31210
# Likes : 0



In case anyone else ever has this problem, do this.

his is caused by an unwanted registry entry, basically XP is offsetting your wallpaper by a specified amount.

To fix it you need to edit the registry [do not mess about with anything in there you don't understand!]

To fix your problem:

Start > run > regedit.exe

Navigate to

HKey_Current_User > Control Panel > Desktop

In the panel to the right you should see two entries named:

Wallpaperoriginx
Wallpaperoriginy

Set both to 0

Credit to Toxicshadow2k7 from cnet forums. I had come across the post and tweaked it so it worked again.
Beginner




Posts : 2
Joined : 2008-05-23
Points : 31210
# Likes : 0



Administrator




Posts : 12015
Joined : 2007-12-26
Gender :
OS : Windows 7 Home Premium and Ultimate X64
Protection : Kaspersky PURE and Malwarebytes' Anti-Malware
Points : 104620
# Likes : 0



Similar topics
---
Permissions in this forum:
You
cannot
reply to topics in this forum