In somewhat of a panic I shut down my browser as soon as it was hijacked. It looked like it was scanning my computer. I can't remember any specific details other than the fact that I got a phony error message that led me to a "quick scan for viruses" on my computer.

Any help would be appreciated. Thanks guys!

I downloaded Hijack this and did a scan, the follownig is my log:

Logfile of Trend Micro HijackThis v2.0.2
Scan saved at 10:31:57 PM, on 15/10/2009
Platform: Windows Vista SP1 (WinNT 6.00.1905)
MSIE: Internet Explorer v7.00 (7.00.6001.18319)
Boot mode: Normal

Running processes:
C:\Windows\system32\taskeng.exe
C:\Windows\system32\Dwm.exe
C:\Windows\Explorer.EXE
C:\Windows\RtHDVCpl.exe
C:\Program Files\Acer\Empowering Technology\SysMonitor.exe
C:\Program Files\Acer\Empowering Technology\Framework.Launcher.exe
C:\Program Files\Acer\Empowering Technology\eDataSecurity\x86\eDSLoader.exe
C:\Program Files\Cyberlink\PowerDVD\PDVDServ.exe
C:\Windows\System32\rundll32.exe
C:\Program Files\Google\Google Desktop Search\GoogleDesktop.exe
C:\Program Files\AVG\AVG8\avgtray.exe
C:\Program Files\Lexmark 7500 Series\lxdlmon.exe
C:\Program Files\Lexmark 7500 Series\lxdlamon.exe
C:\Program Files\iTunes\iTunesHelper.exe
C:\Program Files\Java\jre6\bin\jusched.exe
C:\Program Files\Windows Media Player\wmpnscfg.exe
C:\Program Files\Microsoft Office\Office12\GrooveMonitor.exe
C:\Program Files\Microsoft Office\Office12\ONENOTEM.EXE
C:\Program Files\Windows Defender\MSASCui.exe
C:\Program Files\Google\GoogleToolbarNotifier\GoogleToolbarNotifier.exe
C:\Program Files\Google\Google Desktop Search\GoogleDesktop.exe
C:\Program Files\Google\Google Desktop Search\GoogleDesktop.exe
C:\Windows\system32\wuauclt.exe
C:\Program Files\Mozilla Firefox\firefox.exe
C:\Windows\System32\mobsync.exe
C:\Program Files\Microsoft Office\Office12\EXCEL.EXE
C:\Program Files\AVG\AVG8\avgcsrvx.exe
C:\Users\Pederson\Downloads\winlogon(2).scr

R1 - HKCU\Software\Microsoft\Internet Explorer\Main,Default_Page_URL = http://homepage.acer.com/rdr.aspx?b=ACAW&l=1009&s=1&o=vb32&d=0509&m=aspire_x1700
R1 - HKCU\Software\Microsoft\Internet Explorer\Main,Search Page = http://go.microsoft.com/fwlink/?LinkId=54896
R0 - HKCU\Software\Microsoft\Internet Explorer\Main,Start Page = http://homepage.acer.com/rdr.aspx?b=ACAW&l=1009&s=1&o=vb32&d=0509&m=aspire_x1700
R1 - HKLM\Software\Microsoft\Internet Explorer\Main,Default_Page_URL = http://homepage.acer.com/rdr.aspx?b=ACAW&l=1009&s=1&o=vb32&d=0509&m=aspire_x1700
R1 - HKLM\Software\Microsoft\Internet Explorer\Main,Default_Search_URL = http://go.microsoft.com/fwlink/?LinkId=54896
R1 - HKLM\Software\Microsoft\Internet Explorer\Main,Search Page = http://go.microsoft.com/fwlink/?LinkId=54896
R0 - HKLM\Software\Microsoft\Internet Explorer\Main,Start Page = http://homepage.acer.com/rdr.aspx?b=ACAW&l=1009&s=1&o=vb32&d=0509&m=aspire_x1700
R0 - HKLM\Software\Microsoft\Internet Explorer\Search,SearchAssistant =
R0 - HKLM\Software\Microsoft\Internet Explorer\Search,CustomizeSearch =
R1 - HKCU\Software\Microsoft\Windows\CurrentVersion\Internet Settings,ProxyOverride = *.local
R0 - HKCU\Software\Microsoft\Internet Explorer\Toolbar,LinksFolderName =
O1 - Hosts: ::1 localhost
O2 - BHO: Adobe PDF Reader Link Helper - {06849E9F-C8D7-4D59-B87D-784B7D6BE0B3} - C:\Program Files\Common Files\Adobe\Acrobat\ActiveX\AcroIEHelper.dll
O2 - BHO: WormRadar.com IESiteBlocker.NavFilter - {3CA2F312-6F6E-4B53-A66E-4E65E497C8C0} - C:\Program Files\AVG\AVG8\avgssie.dll
O2 - BHO: Groove GFS Browser Helper - {72853161-30C5-4D22-B7F9-0BBC1D38A37E} - C:\PROGRA~1\MICROS~2\Office12\GRA8E1~1.DLL
O2 - BHO: ShowBarObj Class - {83A2F9B1-01A2-4AA5-87D1-45B6B8505E96} - C:\Program Files\Acer\Empowering Technology\eDataSecurity\x86\ActiveToolBand.dll
O2 - BHO: Google Toolbar Helper - {AA58ED58-01DD-4d91-8333-CF10577473F7} - C:\Program Files\Google\Google Toolbar\GoogleToolbar.dll
O2 - BHO: Google Toolbar Notifier BHO - {AF69DE43-7D58-4638-B6FA-CE66B5AD205D} - C:\Program Files\Google\GoogleToolbarNotifier\5.1.1309.3572\swg.dll
O2 - BHO: Google Dictionary Compression sdch - {C84D72FE-E17D-4195-BB24-76C02E2E7C4E} - C:\Program Files\Google\Google Toolbar\Component\fastsearch_A8904FB862BD9564.dll
O2 - BHO: Java(tm) Plug-In 2 SSV Helper - {DBC80044-A445-435b-BC74-9C25C1C588A9} - C:\Program Files\Java\jre6\bin\jp2ssv.dll
O3 - Toolbar: Acer eDataSecurity Management - {5CBE3B7C-1E47-477e-A7DD-396DB0476E29} - C:\Program Files\Acer\Empowering Technology\eDataSecurity\x86\eDStoolbar.dll
O3 - Toolbar: Google Toolbar - {2318C2B1-4965-11d4-9B18-009027A5CD4F} - C:\Program Files\Google\Google Toolbar\GoogleToolbar.dll
O4 - HKLM\..\Run: [Windows Defender] %ProgramFiles%\Windows Defender\MSASCui.exe -hide
O4 - HKLM\..\Run: [RtHDVCpl] RtHDVCpl.exe
O4 - HKLM\..\Run: [Acer Empowering Technology Monitor] C:\Program Files\Acer\Empowering Technology\SysMonitor.exe
O4 - HKLM\..\Run: [EmpoweringTechnology] C:\Program Files\Acer\Empowering Technology\Framework.Launcher.exe boot
O4 - HKLM\..\Run: [eDataSecurity Loader] C:\Program Files\Acer\Empowering Technology\eDataSecurity\x86\eDSloader.exe
O4 - HKLM\..\Run: [Adobe Reader Speed Launcher] "C:\Program Files\Adobe\Reader 8.0\Reader\Reader_sl.exe"
O4 - HKLM\..\Run: [RemoteControl] "C:\Program Files\CyberLink\PowerDVD\PDVDServ.exe"
O4 - HKLM\..\Run: [LanguageShortcut] "C:\Program Files\CyberLink\PowerDVD\Language\Language.exe"
O4 - HKLM\..\Run: [NvCplDaemon] RUNDLL32.EXE C:\Windows\system32\NvCpl.dll,NvStartup
O4 - HKLM\..\Run: [NvMediaCenter] RUNDLL32.EXE C:\Windows\system32\NvMcTray.dll,NvTaskbarInit
O4 - HKLM\..\Run: [Skytel] Skytel.exe
O4 - HKLM\..\Run: [Acer Product Registration] "C:\Program Files\Acer\Acer Registration\ACE1.exe" /startup
O4 - HKLM\..\Run: [Acer Assist Launcher] C:\Program Files\Acer\Acer Assist\launcher.exe
O4 - HKLM\..\Run: [Google Desktop Search] "C:\Program Files\Google\Google Desktop Search\GoogleDesktop.exe" /startup
O4 - HKLM\..\Run: [AVG8_TRAY] C:\PROGRA~1\AVG\AVG8\avgtray.exe
O4 - HKLM\..\Run: [lxdlmon.exe] "C:\Program Files\Lexmark 7500 Series\lxdlmon.exe"
O4 - HKLM\..\Run: [lxdlamon] "C:\Program Files\Lexmark 7500 Series\lxdlamon.exe"
O4 - HKLM\..\Run: [QuickTime Task] "C:\Program Files\QuickTime\QTTask.exe" -atboottime
O4 - HKLM\..\Run: [iTunesHelper] "C:\Program Files\iTunes\iTunesHelper.exe"
O4 - HKLM\..\Run: [SunJavaUpdateSched] "C:\Program Files\Java\jre6\bin\jusched.exe"
O4 - HKLM\..\Run: [NeroFilterCheck] C:\Windows\system32\NeroCheck.exe
O4 - HKLM\..\Run: [Sony Ericsson PC Suite] "C:\Program Files\Sony Ericsson\Mobile2\Application Launcher\Application Launcher.exe" /startoptions
O4 - HKLM\..\Run: [GrooveMonitor] "C:\Program Files\Microsoft Office\Office12\GrooveMonitor.exe"
O4 - HKCU\..\Run: [swg] C:\Program Files\Google\GoogleToolbarNotifier\GoogleToolbarNotifier.exe
O4 - Startup: LimeWire On Startup.lnk = C:\Program Files\LimeWire\LimeWire.exe
O4 - Startup: OneNote 2007 Screen Clipper and Launcher.lnk = C:\Program Files\Microsoft Office\Office12\ONENOTEM.EXE
O8 - Extra context menu item: E&xport to Microsoft Excel - res://C:\PROGRA~1\MICROS~2\OFFICE11\EXCEL.EXE/3000
O9 - Extra button: Send to OneNote - {2670000A-7350-4f3c-8081-5663EE0C6C49} - C:\PROGRA~1\MICROS~2\Office12\ONBttnIE.dll
O9 - Extra 'Tools' menuitem: S&end to OneNote - {2670000A-7350-4f3c-8081-5663EE0C6C49} - C:\PROGRA~1\MICROS~2\Office12\ONBttnIE.dll
O9 - Extra button: Research - {92780B25-18CC-41C8-B9BE-3C9C571A8263} - C:\PROGRA~1\MICROS~2\Office12\REFIEBAR.DLL
O13 - Gopher Prefix:
O18 - Protocol: grooveLocalGWS - {88FED34C-F0CA-4636-A375-3CB6248B04CD} - C:\PROGRA~1\MICROS~2\Office12\GR99D3~1.DLL
O18 - Protocol: linkscanner - {F274614C-63F8-47D5-A4D1-FBDDE494F8D1} - C:\Program Files\AVG\AVG8\avgpp.dll
O18 - Filter: x-sdch - {B1759355-3EEC-4C1E-B0F1-B719FE26E377} - C:\Program Files\Google\Google Toolbar\Component\fastsearch_A8904FB862BD9564.dll
O20 - AppInit_DLLs: C:\PROGRA~1\Google\GOOGLE~1\GOEC62~1.DLL,avgrsstx.dll
O23 - Service: Apple Mobile Device - Apple Inc. - C:\Program Files\Common Files\Apple\Mobile Device Support\bin\AppleMobileDeviceService.exe
O23 - Service: AVG Free8 E-mail Scanner (avg8emc) - AVG Technologies CZ, s.r.o. - C:\PROGRA~1\AVG\AVG8\avgemc.exe
O23 - Service: AVG Free8 WatchDog (avg8wd) - AVG Technologies CZ, s.r.o. - C:\PROGRA~1\AVG\AVG8\avgwdsvc.exe
O23 - Service: Bonjour Service - Apple Inc. - C:\Program Files\Bonjour\mDNSResponder.exe
O23 - Service: eDataSecurity Service - Egis Incorporated - C:\Program Files\Acer\Empowering Technology\eDataSecurity\x86\eDSService.exe
O23 - Service: Empowering Technology Service (ETService) - Unknown owner - C:\Program Files\Acer\Empowering Technology\Service\ETService.exe
O23 - Service: Google Desktop Manager 5.7.808.7150 (GoogleDesktopManager-080708-050100) - Google - C:\Program Files\Google\Google Desktop Search\GoogleDesktop.exe
O23 - Service: Google Update Service (gupdate1c9e98239d65d60) (gupdate1c9e98239d65d60) - Google Inc. - C:\Program Files\Google\Update\GoogleUpdate.exe
O23 - Service: Google Updater Service (gusvc) - Unknown owner - C:\Program Files\Google\Common\Google Updater\GoogleUpdaterService.exe (file missing)
O23 - Service: iPod Service - Apple Inc. - C:\Program Files\iPod\bin\iPodService.exe
O23 - Service: LightScribeService Direct Disc Labeling Service (LightScribeService) - Hewlett-Packard Company - C:\Program Files\Common Files\LightScribe\LSSrvc.exe
O23 - Service: lxdlCATSCustConnectService - Lexmark International, Inc. - C:\Windows\system32\spool\DRIVERS\W32X86\3\\lxdlserv.exe
O23 - Service: lxdl_device - - C:\Windows\system32\lxdlcoms.exe
O23 - Service: NVIDIA Display Driver Service (nvsvc) - NVIDIA Corporation - C:\Windows\system32\nvvsvc.exe
O23 - Service: Cyberlink RichVideo Service(CRVS) (RichVideo) - Unknown owner - C:\Program Files\Cyberlink\Shared files\RichVideo.exe

--
End of file - 9575 bytes
Dr Jay

Head Admin




OS

:

Windows 10 Home & Pro, Android, Linux




Arch.

:

x64 (64-bit)




Anti-Malware

:

Bitdefender Total Security




Posts

:

15192




Rubies

:

289625




Likes

:

170



Welcome to
GeekPolice
. We are here to save you money. Our expertise here can help you get rid of threats.
From this point on, please do not make any more changes to your computer; such as install/uninstall programs, use special fix tools, delete files, edit the registry, etc. -
unless
advised by a
Tech Staff member
,
administrator
, or
moderator
. Please do not ask for help elsewhere (in this site or other sites). Doing so can result in system changes, which may not show up in the logs you post.
As this topic is for you only, I just need to issue a
warning to outside readers
:
Warning: Instructions issued in this topic are for this user only. We are not responsible for damages, so if you need help; please register for this site, and start a new topic requesting help.
---
Please download ComboFix from
Here
or
Here* IMPORTANT !!! Save ComboFix.exe to your Desktop


Disable your AntiVirus and AntiSpyware applications, usually via a right click on the System Tray icon. They may otherwise interfere with our tools. Note: If you are having difficulty properly disabling your protective
programs, or are unsure as to what programs need to be disabled, please refer to the information available through this link : Protective Programs

Double click on ComboFix.exe & follow the prompts.

As part of it's process, ComboFix will check to see if the Microsoft Windows Recovery Console is installed. With malware infections being as they are today, it's strongly recommended to have this pre-installed on your machine before doing any malware removal. It will allow you to boot up into a special recovery/repair mode that will allow us to more easily help you should your computer have a problem after an attempted removal of malware.

Follow the prompts to allow ComboFix to download and install the Microsoft Windows Recovery Console, and when prompted, agree to the End-User License Agreement to install the Microsoft Windows Recovery Console.
**Please note: If the Microsoft Windows Recovery Console is already installed, ComboFix will continue it's malware removal procedures.

Once the Microsoft Windows Recovery Console is installed using ComboFix, you should see the following message: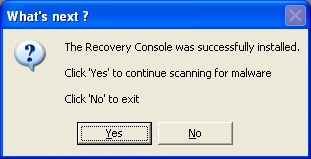 Click on Yes, to continue scanning for malware.
When finished, it shall produce a log for you. Please include the
C:\ComboFix.txt
in your next reply.
Do not mouse-click Combofix's window while it is running. That may cause it to stall.
............................................................................................
When ComboFix was scanning my machine, I got a notice saying that the command prompt stopped working.

Also, I lost my connection to the Internet.
Dr Jay

Head Admin




OS

:

Windows 10 Home & Pro, Android, Linux




Arch.

:

x64 (64-bit)




Anti-Malware

:

Bitdefender Total Security




Posts

:

15192




Rubies

:

289625




Likes

:

170



Hi
Simply restart your computer, and the Internet Connection should return.
As part of its process, ComboFix disables the Internet connection, because any trojans that are on your machine cannot download more malware on to your computer. Some trojans attempt to download malware on to your machine making it even more infected. ComboFix is safe and will clean itself up, so go ahead and run it. ComboFix normally reboots, allow it to finish, then post the log in your next reply - please.
............................................................................................
I tried running it 4 times, and waited several minutes to reboot after it crashed, with no results. Is there anything you know of I can do to fix this?
Dr Jay

Head Admin




OS

:

Windows 10 Home & Pro, Android, Linux




Arch.

:

x64 (64-bit)




Anti-Malware

:

Bitdefender Total Security




Posts

:

15192




Rubies

:

289625




Likes

:

170



Please download
DrWeb-CureIt
and save it to your Desktop. Do
NOT
perform a scan yet
Double-click on drweb-cureit.exe to start the program.
An Express Scan of your PC notice will appear.

Under Start the Express Scan Now, Click OK to start the scan.
This is a short scan that will scan the files currently running in memory.
If something is found, click the Yes button when it asks you if you want to cure it.

Once the short scan has finished, Click Options > Change settings

Choose the Scan tab and UNcheck Heuristic analysis

Back at the main window, click Custom Scan, then Select drives (a red dot will show which drives have been chosen).

Then click the Start/Stop Scanning button (green arrow on the right, and the scan will start.

When finished, a message will be displayed at the bottom advising if any viruses were found.

Click Yes to all if it asks if you want to cure/move the file.

When the scan has finished, look if you can see the icon next to the files found.
If so, click it, then click the next icon right below and select Move incurable.
(This will move it to the C:\Documents and Settings\userprofile\DoctorWeb\Quarantine folder if it can't be cured)

Next, in the Dr.Web CureIt menu on top, click file and choose save report list.

Save the DrWeb.csv report to your Desktop.

Exit Dr.Web Cureit when you have finished.

Important! Reboot your computer because it could be possible that files in use will be moved/deleted during reboot.

After reboot, post the contents of the log from Dr.Web in your next reply. (You can use Notepad to open the DrWeb.cvs report)

............................................................................................
Create an account or log in to leave a reply
You need to be a member in order to leave a reply.
Log in
Already have an account? No problem, log in here.
Log in
---
Permissions in this forum:
You
cannot
reply to topics in this forum