hello
now i used to know the answer to this but have completely forgotten
right.... i arnt sure if it has just happened or if it happened when i set up the dual boot.
in XP everything is fine.
But in windows 7 it seems to be using G:\ as my primary drive even though WINDOWS 7 is installed on C:\
so this has become annoying because now when i install software its default is G
how do i swap it back? to use C:\ as its default drive, in computer management G: is my primary, BUT so is C:
heres a piccy for ya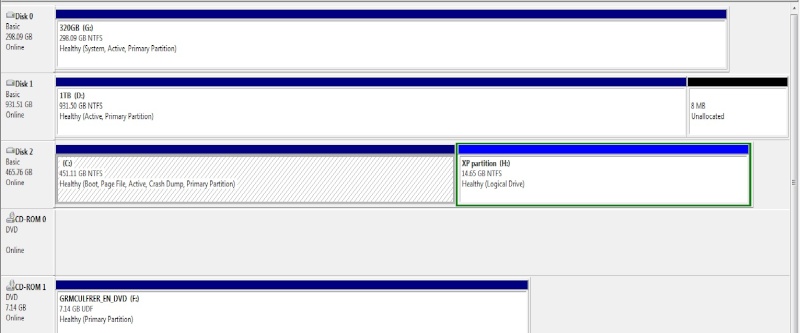 Last edited by Xenos on Sat 19 Sep 2009, 9:25 pm; edited 1 time in total
Regedit --> "HKEY_LOCAL_MACHINE \Software \Microsoft \Windows \CurrentVersion" and change your default. Having 2 primary drive detected is perfectly normal.

Tech Advisor





Posts

: 507


Joined :

2008-08-23


Operating System

: Xubuntu & Windows 7



thanks, but all were set to use drive C: as the default
i am reinstalling windows 7 on the PC as i still have build 7100 installed lol so i am gunna put the RTM on and that should solve it if nothing else
Hello,

Under Disk Management, you can change the letter. Right click the drive >> Change Drive letter and Paths.
Please be a GeekPolice fan on
Facebook!

Have we helped you?
Help us!
| Doctor by day, ninja by night.



Posts

: 12017


Joined :

2007-12-27


Operating System

: Windows 7 Home Premium and Ultimate X64



I tried that doc but it wouldn't let me.

I have formatted it and put on 7RTM and that has sorted it out

thanks
---
Permissions in this forum:
You
cannot
reply to topics in this forum