Hi - I'm a new member. Hope someone can assist me with a virus problem. I received a "b.exe application error" a few days ago. When I tried to open a anti-virus program to scan computer the window displays gibberish - unreadable text. When I re-boot, several windows of illegible text began cascading onto my screen. Can you help?
Last edited by Adisageek on 5th August 2009, 8:16 am; edited 1 time in total (Reason for editing : Add new member message)
Beginner




Posts : 1
Joined : 2009-08-05
OS : Windows XP
Points : 26843
# Likes : 0



Hello read this regarding your malware problem.
http://www.geekpolice.net/-t3821.htm
Administrator




Posts : 11976
Joined : 2007-12-26
Gender :
OS : Windows 7 Home Premium and Ultimate X64
Protection : Kaspersky PURE and Malwarebytes' Anti-Malware
Points : 104640
# Likes : 0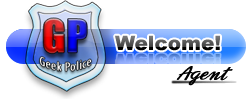 FunSubstance
is the place to go for daily entertainment.
Master




Posts : 3247
Joined : 2008-03-07
Gender :
OS : Windows 7
Protection : ESET Smart Security
Points : 50478
# Likes : 0



---
Permissions in this forum:
You
cannot
reply to topics in this forum