I don't know if this is the right place to ask.
I need help badly. D:
I need to reformat my computer.
However before that I wanna transfer all my data in my computer to an external hard-disk
However whatever I copied be it music, picture, small or big files
It gave me that my file are write-protection
Can I like "unlock" it or whatever so that I can copy all my files inside my external hard-disk
I tried copying to my PSP, my own hard-disk, my daddy's hard-disk and thumb drive
It gave me the same old problem
Please help D: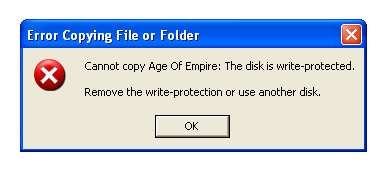 Novice




Posts : 28
Joined : 2009-01-25
OS : Desktop
Points : 28752
# Likes : 0



Hello,

You can try to use DVD Decrtyper.
Administrator




Posts : 12015
Joined : 2007-12-26
Gender :
OS : Windows 7 Home Premium and Ultimate X64
Protection : Kaspersky PURE and Malwarebytes' Anti-Malware
Points : 104620
# Likes : 0



My CPU cannot put DVD
Only normal CD O.O'
D:
Novice




Posts : 28
Joined : 2009-01-25
OS : Desktop
Points : 28752
# Likes : 0



---
Permissions in this forum:
You
cannot
reply to topics in this forum