Hi everyone. I am new to geekpolice, found it yesterday while trying to figure out a way to defeat the System Security 2009 virus. Wow !! what a b**** !!. I was reading all the different posts on how to kill the mutha and none seemed to work. They were all in the ball park though because i was able to start thinking about what i should do. I work off Windows XP and the way i beat the virus was to get into safe mode (keep pressing F8 when you reboot) and get to system restore. then simply go back say one day (a calender will come up) and let the computer shut down for restart. Virus DEAD !!!. One thing though, my computer seems slower so get a good anti malware program (malwarebytes) and do a deep scan. Do not be afraid or worried by the bs that comes with this virus, Do NOT send any credit card details, just relax, take your time and you will win. !!! Thanks for having me...
:
Beginner




Posts : 3
Joined : 2009-06-23
OS : xp
Points : 27285
# Likes : 0



Welcome to GeekPolice! Enjoy your stay.
Administrator




Posts : 11976
Joined : 2007-12-26
Gender :
OS : Windows 7 Home Premium and Ultimate X64
Protection : Kaspersky PURE and Malwarebytes' Anti-Malware
Points : 104650
# Likes : 0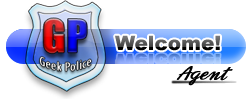 FunSubstance
is the place to go for daily entertainment.
Master




Posts : 3247
Joined : 2008-03-07
Gender :
OS : Windows 7
Protection : ESET Smart Security
Points : 50488
# Likes : 0



---
Permissions in this forum:
You
cannot
reply to topics in this forum